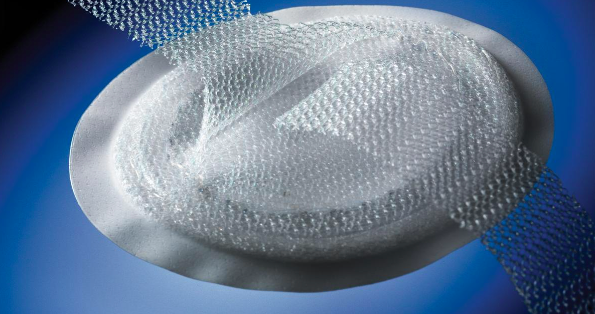 stock image of Ventralex mesh
Providence, RI - One of the first trials in state court involving allegedly defective hernia mesh implants begins Thursday in Rhode Island, and the proceedings will be webcast gavel-to-gavel by Courtroom View Network.
Opening statements take place Thursday in a closely watched case against medical device company Davol and its parent C.R. Bard Inc. Jury selection began on July 18th.
Plaintiffs Paul and Earlynn Trevino accuse Davol and Bard of marketing the Ventralex brand hernia mesh implant despite allegedly knowing the polypropylene resin used in the mesh causes reactions with human tissue that supposedly lead to symptoms ranging from chronic pain to infections to nerve damage.
The defendants maintain the Ventralex implant is not defective and has successfully helped thousands of hernia patients, suggesting the injuries claimed in the lawsuit are the result of other medical conditions.
While numerous lawsuits involving transvaginal mesh implants have gone to trial in state and federal court over the last decade, only a few trials to date involved hernia mesh products, and those all took place in federal court.
CVN is the only news media organization in the country dedicated to gavel-to-gavel video coverage of major products liability trials, and numerous trials involving pelvic mesh products are included with a subscription to CVN's online trial video library among hundreds of other trials involving a range of practice areas.
A previous hernia mesh trial in Rhode Island state court expected to be the first of its kind settled shortly before starting in April of 2021.
A jury verdict in a state court hernia mesh case will draw significant scrutiny from both the plaintiff and defense bars with thousands of similar cases pending, including federal multi-district litigation consolidated in the Southern District of Ohio.
Associate Justice Richard A. Licht will preside over the trial. CVN's coverage will commence with the start of Tuesday's opening statements and continue for the duration of the proceedings.
The plaintiffs in the current Rhode Island trial are represented by Motley Rice LLC.
The defense is represented by McIntyre Tate LLP.
The case is captioned Paul Trevino, et al. v. Davol Inc., et al., case number PC-2018-8437 in Providence/Bristol County Superior Court.
E-mail David Siegel at dsiegel@cvn.com