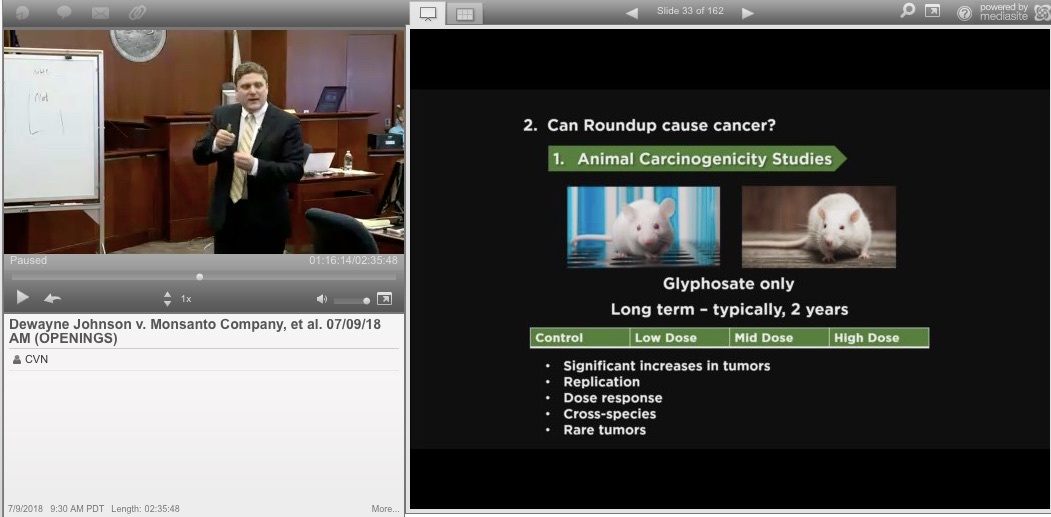 CVN screenshot of plaintiff attorney R. Brent Wisner delivering his opening statement
San Francisco, CA - A California state court jury heard opening statements on Monday in the first lawsuit to go to trial out of thousands filed over claims that Monsanto's popular Roundup weedkiller causes cancer.
While plaintiff Dewayne Johnson's lawsuit is not officially a bellwether case, the outcome could impact the roughly 9000 similar claims Monsanto currently faces in state and federal court. The closely watched case marks the first time a jury will consider whether or not glyphosate, a key ingredient in Roundup and many other weedkillers, poses a health risk.
Johnson's attorney, R. Brent Wisner of Baum Hedlund Aristei & Goldman in Los Angeles, told jurors that Johnson, 46, developed cancer as a result of two years of exposure to Roundup while working as a groundskeeper, according to a Courtroom View Network webcast of the proceedings.
CVN webcast and recorded Monday's opening statements, and will return to webcast and record the closing arguments in three to four weeks.
Wisner argued to jurors that the International Agency for Research on Cancer, a body of the World Health Organization, declared glyphosate to be "probably carcinogenic." He told jurors he would present evidence that Monsanto had information showing the compound posed a health risk but chose to withhold the information from the public.
Monsanto has vigorously rejected any link between glyphosate and cancer, and the company's attorney George Lombardi of Winston & Strawn's Chicago office told jurors that the plaintiffs were basing their case on flawed science. He argued that 800 scientific studies, the U.S. Environmental Protection Agency and the National Institute of Health found no link between glyphosate exposure and cancer.
Given the stakes of the case, the well in Judge Suzanne Bolanos' courtroom will be filled to capacity. Wisner is backed up by Michael Baum and Pedram Esfandiary, also of Baum Hedlund, and Timothy Litzenburg and David Dickens of The Miller Firm LLC.
Lombardi is supported by Sandra Edwards of Farella Braun + Martel's San Francisco office, and Joe Hollingsworth out of Hollingsworth LLP's Washington, D.C. office.
The case is captioned Dewayne Johnson v. Monsanto, case number CGC16550128, in the Superior Court of California for San Francisco County.
Email David Siegel at dsiegel@cvn.com