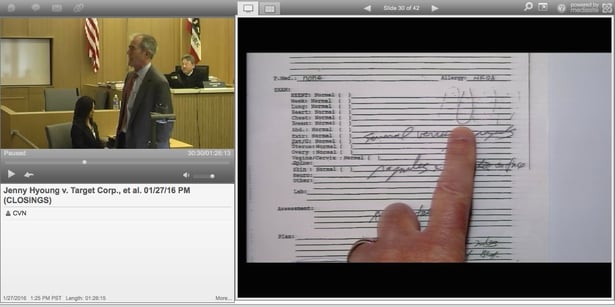 Defense attorney Thomas McAndrews reviews plaintiff Jenny Hyoung's medical records with the jury during his closing argument. Click here to see video from the trial.
Long Beach — A California state court jury on Friday rejected a woman's medical malpractice lawsuit claiming her physician was negligent for treating her acne with a powerful antibiotic that caused a severe allergic reaction which left her with scarring on over 30 percent of her body.
The 12-member jury deliberated for just over a full day following an eight-day trial before deciding 9-3 to reject plaintiff Jenny Hyoung's lawsuit against her family physician Dr. Kyoung Yoo. While in college in 2011 Hyoung developed a life-threatening condition called Stevens Johnson syndrome, which causes dangerous blistering of the skin, after taking the drug Bactrim. Bactrim also known as Septra, is often used to treat serious infections like Methicillin-resistant Staphylococcus aureus, or MRSA.
Hyoung's complaint alleged that Yoo failed to take an adequately thorough medical history before prescribing the drug, and that using Bactrim as a "first line treatment for mild acne" fell below the standard of care. However Yoo's attorney successfully argued that previous medications had failed to clear up Hyoung's acne, and that the decision to prescribe Bactrim was appropriate.
"Every one of the experts acknowledged that Bactrim is a well-recognized antibiotic that is frequently used for MRSA and they all acknowledge that it is also used to treat acne when first line treatments fail," Yoo's attorney Thomas McAndrews told jurors during his closing argument, according to a Courtroom View Network webcast of the trial.
Hyoung's attorney John Carpenter argued that Yoo should have warned her about the dangers of taking Bactrim compared to the milder antibiotics she had previously used to treat her acne. When Hyoung began experiencing flu-like symptoms and facial swelling, Carpenter said she continued taking the Bactrim because she believed it to be no less safe than other acne medication she had taken. He also claimed the ordeal left Hyoung with post-traumatic stress disorder.
McAndrews told jurors that SJS is such a rare complication that doctors who prescribe Bactrim generally do not warn their patients about it, instead telling them to stop taking the drug and to seek medical attention if they develop a rash or fever.
"Every expert that testified said they never discussed [SJS] with the patient," McAndrews said. "So I'm not really sure why that is an issue or was ever brought up other than to try to make this look like a dangerous drug when in fact it really isn't."
The jury only considered Yoo's potential liability as part of a bifurcated trial, but Carpenter told CVN that had the case gone to a damages phase he was planning to present a life care plan including $10 million in economic damages alone.
"Obviously we are disappointed in the verdict and we feel that there are some issues that we are exploring as the basis for an appeal," Carpenter told CVN. He declined to provide details on those issues, but said his client's position was not helped by the decision to bifurcate the trial.
"It impeded her ability to inform the jury about her post-traumatic stress disorder, which I think ultimately affected the way the jury saw her credibility."
Yoo's attorney did not respond to requests for comment.
Hyoung's complaint originally included claims against a number of pharmaceutical companies and the Target pharmacy where she had the prescription filled, but Yoo was the only defendant remaining when the case went to trial. The trial took place before Judge Ross Klein and was recorded gavel-to-gavel by CVN.
Hyoung is represented by John C. Carpenter of Carpenter Zuckerman & Rowley LLP.
Yoo is represented by Thomas F. McAndrews of Reback McAndrews Kjar Warfor & Stockalper LLP. His malpractice insurance carrier is Cooperative of American Physicians, also known as CAP.
The case is Hyoung v. Yoo, case number NC058059 in the Superior Court of California for Los Angeles County.
Email David Siegel at dsiegel@cvn.com