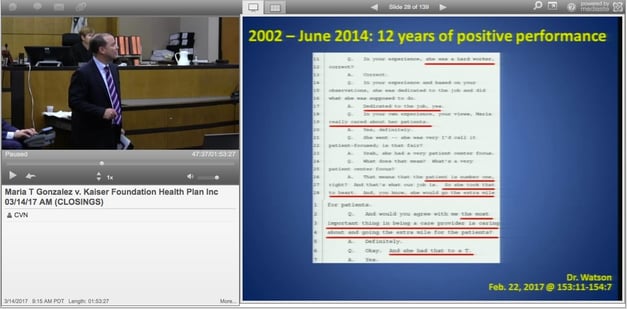 Courtroom View Network screenshot of attorney David DeRubertis reviewing testimony about his client's job perfromance during his closing argument. Click here to see video from the trial.
San Diego — A California state court jury has awarded $492,000 to a former medical assistant who accused Kaiser Permanente of illegally firing her to avoid costly medical treatment for her disabled son, surpassing the healthcare giant's highest settlement offer of $15,000, according to the woman's attorney.
The jury reached a verdict on Thursday following a two-week trial, finding that Kaiser engaged in disability discrimination when it terminated Maria Gonzalez in 2014. Gonzalez worked in a pain management clinic, and Kaiser claims they fired Gonzalez for accessing her son Pedro's medical records without authorization, while he received treatment in that same clinic.
The award consists entirely of past and future economic damages. Despite the jury declining to award any of the requested $7 million in non-economic damages, attorney David DeRubertis told Courtroom View Network the verdict is a positive outcome for his client, and that Kaiser will be required to pay attorney fees that reach "into the seven figures."
The full trial was webcast live gavel-to-gavel and recorded by CVN. Representatives for Kaiser did not respond to requests for comment.
Gonzalez received positive performance evaluations for 11 years from Kaiser, until Pedro became stricken with a chronic kidney disorder called loin pain hematuria syndrome. Pedro received health coverage through Kaiser, and his mother repeatedly sought referrals to specialists outside of Kaiser's network. After a major operation failed to adequately help Pedro, she pushed for an expensive second surgery.
When Pedro complained about the quality of care he was receiving, a Kaiser doctor allegedly told him, "You wouldn't want anything to happen to your mother, would you?" Kaiser, represented by LTL Attorneys, denied such a statement was ever made, and noted that at the time of the trial Pedro still received healthcare services from Kaiser.
Kaiser argued throughout the trial that Gonzalez violated one of the company's most serious privacy policies by accessing her son's medical records, and that she did so outside the scope of her normal duties in the clinic.
DeRubertis told CVN that while he and Gonzalez are "very happy" about the verdict, he may seek an additur or a new trial on non-economic damages. He explained that a finding of disability discrimination and economic damages of almost half a million dollars by definition means that Gonzalez must have experienced some degree of emotional distress. During the trial he described how the loss of her job sent Gonzalez into a severe depression.
"The jury has wide discretion to determine the amount, but I do believe that an award of zero is contrary to what the law is," he said.
DeRubertis said Gonzalez's lawsuit stands out from other disability discrimination cases, because it is a so-called "association case" meaning that it didn't involve a disabled plaintiff.
"There have not been a lot of trials on disability and association claims like this," he said.
DeRubertis said he didn't think Kaiser had any valid grounds to challenge the verdict, but he didn't entirely close the door on the possibility of a defense appeal.
"You never know with Kaiser," he said.
The trial took place before Judge Katherine Bacal, and gavel-to-gavel video of the full proceedings is available as part of CVN's online video archive, along with hundreds of other civil jury trials from California and dozens of other states.
The case is Maria T. Gonzalez v. Kaiser Foundation Health Plan Inc., case number 37-2015-00019384-CU-WT-CTL, in San Diego County Superior Court.
E-mail David Siegel at dsiegel@cvn.com