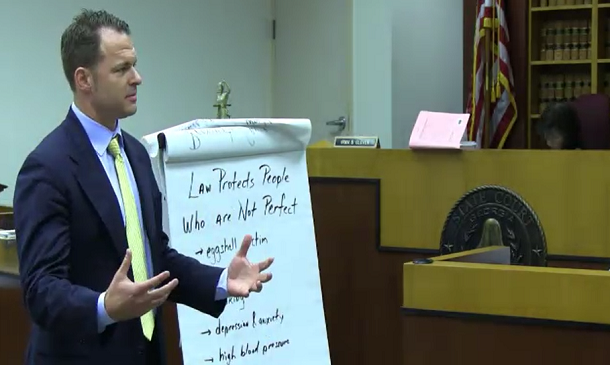 Michael Goldberg delivers closing arguments at trial over a 2013 crash his client, Joseph Reboulet, says led to his spinal fusion and life-long pain. Jurors Wednesday awarded $813,000 in the case.
---
Marietta, GA—Jurors Wednesday awarded $813,000 for the car crash a Georgia architect says led to his spinal fusion and a lifetime of pain. Reboulet v. Schlosberg, 14-A-3421-3.
The Cobb County State Court jury took about two hours to find Mark Schlosberg 80 percent responsible for rear-ending Joseph Reboulet as Reboulet sat in a line of cars waiting for a vehicle that stopped to turn left off of Kennesaw's Stilesboro Road in 2013. Reboulet claims the crash damaged discs in his cervical spine, forcing him to undergo a spinal fusion and leaving him in persistent pain, despite the surgery.
Jurors apportioned the remaining 20 percent of responsibility for the crash to the unidentified John Doe driver who allegedly waited in the roadway's travel lane rather than the available turn lane to complete a turn near the Marietta Country Club. The jury's apportionment likely reduces the final award against Schlosberg to $650,400.
During Wednesday's closing arguments, one of Reboulet's attorneys, Fried Rogers Goldberg's Michael Goldberg, requested up to $3.4 million, including more than $213,000 for Reboulet's medical expenses and up to $3.2 million for pain and suffering over the course of his life.
"It's a lot of money. There's no question about it. It is a lot of money," Goldberg told jurors. "Eighty-six years [for Reboulet's life expectancy] is a long time."
Wednesday's verdict capped a three-day trial focusing on the cause of the crash and Reboulet's injuries. Schlosberg's attorney, Alexandra Bowen Higgins, argued the unidentified driver who illegally stopped in the travel lane, and not Schlosberg, caused the wreck. During Wednesday's closings, Higgins said Schlosberg was traveling in the flow of traffic with no expectation of stopping when the unidentified driver stopped. "The law says you have to use that turn lane," Higgins said, noting evidence Schlosberg was boxed in traffic and unable to swerve to avoid the crash. "You can have an expectation that someone isn't going to stop—there's no red light, it's a 45 miles-an-hour [speed limit on the road]."
Beyond the crash, the defense argued Reboulet's prior medical problems, including degenerative disc disease and uncontrolled diabetes, contributed to the neck condition that led to his spinal fusion and persistent nerve pain.
On Wednesday, Higgins noted Reboulet's pre-trial claims of suffering little or no neck pain conflicted with his trial testimony that he had suffered and been treated for neck pain for years before the collision. "What we do know now, is there is other treatment that we never [received information of]," Higgins said. "His neck condition had long-standing degenerative issues. And, we know for sure now that he started having pain complaints in the 80s, we know he [received treatment] in Indiana, we know he went to a neurosurgeon in Indiana."
Higgins acknowledged the severity of Reboulet's pre-crash neck condition was unclear, but she pinned responsibility on Reboulet for failing to provide medical records of his treatment in the years before the crash. "We don't have the medical provider [who treated Reboulet before the crash]. So do we know if he went once, did he go twice, did he go once a month? We don't know that information because he didn't disclose that to us."
But Goldberg attributed conflicts between Reboulet's deposition and his trial testimony to confusion caused by pain medication. "Trial is about fairness and the truth," Goldberg told the jury Wednesday, noting medical records for treatment many years before the crash were unavailable because they had been destroyed as part of routine purges. "Is it fair to depose a person who's on pain meds for hours going back and forth between back and neck pain, and then when the deposition comes out, it doesn't make sense. Was he talking about back [pain]? Was he talking about neck [pain]?"
While Goldberg acknowledged Reboulet's prior medical issues, he argued evidence showed Reboulet suffered no neck pain in the five years before the accident. "Could this all be a coincidence? A person goes five years without any issues, and then suddenly the minute he's hit by a car at highway speed from behind, he suddenly has diabetic neuorapthy in his arms and hands? Something that no one has seen?" Goldberg asked. "It would have to be an unbelievable coincidence that that was what occurred."
Goldberg also argued evidence proved Schlosberg caused the accident, and contended the fact the unknown driver may have stopped illegally was irrelevant. "Does why the person stopped matter? In other words, does this accident still happen whether that person's making a left turn there, or stopping for a school bus, or broken down?" Goldberg asked. "Let's think about that. Is Mr. Schlosberg's car still following Joe's car at the same distance? Yes. Is it still going the same speed? Yes. Does Joe still stop where he stops at? Yes. That's why what John Doe did is not the proximate cause of this collision."
After the decision, one of Reboulet's attorneys, Fried Rogers Goldberg's Eric Rogers, described the jury's decision as a compromise verdict that likely accounted for evidence on both sides. "There were a lot of issues with [Reboulet's] medical history and pre-existing conditions, but the jury understood that this was a large-impact, rear-end collision with serious injuries and that the accident contributed to his need for surgery," Rogers said. "Our client was an architect with a wife of 25 years, two great kids in college, and the jury knew he was not the type of person to bring a claim that wasn't valid. That helped us overcome some issues with his inability to remember some of his prior treatment on cross-examination."
However, Rogers said the defense succeeded in highlighting potential problem areas in Reboulet's claim. "The defense did a really good job of pointing out the issues in our case and getting the jury to attribute 20 percent fault to a non-party John Doe."
Higgins could not immediately be reached for comment.
CVN recorded the trial and will offer gavel-to-gavel video on demand as soon as it is available.
Related Information
Joseph Reboulet is represented by Fried Rogers Goldberg's Michael Goldberg and Eric Rogers.
Mark Schlosberg is represented by Alexandra Bowen Higgins.
Not a subscriber?
Learn how you can watch Georgia trials from around the country.