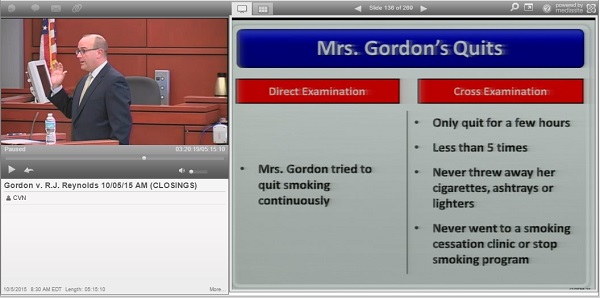 During a CVN webcast of closings in John Gordon's suit against R.J. Reynolds for the cancer death of his wife, Helen, Kevin Boyce argues Helen Gordon's quit attempts were insufficient to prove she wanted to stop smoking. Jurors awarded John Gordon $5,000 and found Helen Gordon 98 percent responsible for the smoking that caused her respiratory disease and cancer.
---
Punta Gorda, FL—Jurors delivered a verdict for R.J. Reynolds in everything but name Monday, as they awarded $5,000 to the widower of a Polish immigrant who smoked for more than 40 years, and they found Reynolds only 2% responsible for the cancer that caused her death. Gordon v. R.J. Reynolds, 2013-CA-001552.
The verdict means the award could be reduced to $100 in John Gordon's suit claiming his wife Helen's nicotine addiction, respiratory disease, and fatal lung cancer were caused by Reynolds' involvement in a decades-long conspiracy to hide the dangers of smoking.
Gordon's attorneys sought $5 million in compensatories, plus unspecified punitives.
Jurors deliberated for less than five hours before finding Helen Gordon 98% responsible for her smoking-related respiratory disease and cancer, and rejecting John Gordon's conspiracy and concealment claims.
Originally from Poland, Helen Gordon began smoking before she immigrated to the U.S. in 1951 with John Gordon. She remained a pack-and-a-half smoker for more than 40 years, before being diagnosed with chronic obstructive pulmonary disease in 1994. She ultimately died of lung cancer in 1999, when she was 76.
The case turned on why Helen Gordon smoked and how that played into her share of responsibility for her cancer. Jogn Gordon's attorneys argued his wife switched to Reynolds-brand Salem cigarettes after moving to the U.S. because of deceptive marketing.
"Reynolds fueled her (nicotine) addiction, from that day until the day she died," John Gordon's attorney William Wichmann, told jurors in Monday's closings. "They never disclosed the truth. They never told her what they knew, they never offered to help her to quit. They never offered to help her with her diseases."
Wichmann reminded jurors John Gordon testified his wife smoked through much of the half-century the two had known each other. "I did everything I could in my power (to get Helen to quit smoking), but she was so desperately deeply addicted, she couldn't," Wichmannread from Gordon's testimony. "And she tried to (quit) desperately, herself, but without positive result."
However, Reynolds attorneys argued Helen Gordon chose to smoke for decades despite knowing the risks, and bore the responsibility for its effects.
During Monday's closings, Jones Day's Kevin Boyce reminded jurors of evidence John Gordon quit smoking on his wife's birthday in 1964 as way to encourage Helen to stop smoking as well. Boyce argued Helen's failure to try to quit on her birthday until at least 30 years later proved wanted to smoke, despite the risks involved. "This is a woman who was comfortable with her choice to smoke, and the evidence you can rely on, on that point is that on her birthday, for 30 years, 30 birthdays in a row, she never even tried to stop," Boyce said.
Boyce also argued there was insufficient evidence that Helen Gordon was influenced by allegedly deceptive tobacco industry marketing. Although John Gordon claimed TV commercials swayed his wife's cigarette preference, Boyce noted Gordon was unable to describe anything else his wife watched on television.
Instead, Boyce claimed choice, rather than industry marketing, drove Helen Gordon's smoking decisions. "If you know you should stop and you don't want to, that is perfectly OK. That's the freedom (the Gordons) came to this country to have," Boyce said. "But not in a lawsuit. Not in a lawsuit for $5 million."
The Gordon suit is one of thousands of so-called "Engle progeny" suits in Florida. The cases arise from a 2006 Florida Supreme Court decision decertifying Engle v. Liggett Group Inc., a class action suit by smokers for the illnesses they say were caused by tobacco companies, their cigarettes, and allegedly deceptive marketing that stretched throughout much of the 20th century. The state supreme court's decision requires each Engle plaintiff establish class membership individually, by proving nicotine addiction that caused a smoking-related illness.
Once class membership is established, plaintiffs can rely on certain findings in the original suit, including the finding that tobacco companies deceived the public and manufactured a defective product. However,to prevail on conspiracy claims, each plaintiff must establish a link between tobacco industry concealment and their addiction and injury.
Email Arlin Crisco at acrisco@cvn.com.
---
Related Information
John Gordon is represented by William Wichmann, of the Law Offices of William Wichmann, and Gary Praglin, of Engstrom, Lipscomb, and Lack. R.J. Reynolds is represented by Kevin Boyce, Jordan Patterson, and Bradley Harrison, of Jones Day.
Watch gavel-to-gavel coverage of the trial.
Not a subscriber?