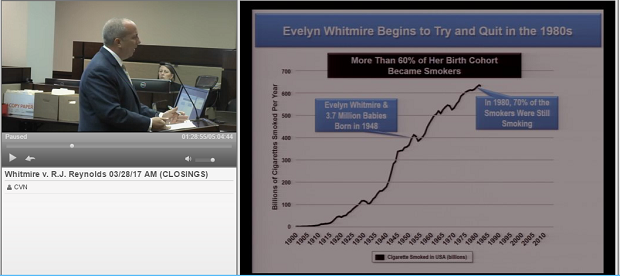 Gary Paige delivers his closing argument against R.J. Reynolds, accused of responsibility for the lung cancer death of Evelyn Whitmire, 46, who smoked for more than 25 years. Jurors awarded Whitmire's husband $3 million in compensatory damages.
---
Update 4/3/17: Parties announced Monday that they reached a confidential settlement on punitive damages.
Tallahassee—A day after awarding $3 million in compensatory damages for the role R.J. Reynolds played in the lung cancer death of a 46-year-old smoker, Florida state court jurors Wednesday declared themselves at an impasse over punitive damages, forcing a mistrial in that phase of trial against the tobacco company. Whitmire v. R.J. Reynolds, 2015CA002337.
Jurors deliberated for only four hours before declaring themselves deadlocked on what, if any, punitive damages to impose against Reynolds for the lung cancer death of Evelyn Whitmire. That declaration followed Tuesday's verdict finding Reynolds responsible for Whitmire's nicotine addiction and her 1995 cancer death.
Tuesday's verdict included the $3 million compensatory award and a finding that punitives were potentially warranted for Reynolds' role in Whitmire's fatal lung cancer.
Whitmire, who had her first cigarette as a teenager, smoked more than a pack a day for more than 25 years before she developed lung cancer, dying just months later. Her husband, James, claims Reynolds' participation in a scheme to hide the dangers of smoking led to his wife's nicotine addiction and, ultimately, her death.
James Whitmire's attorney, Gordon & Doner's Gary Paige had requested $26 million in damages during the trial's closing arguments, including $11 million in compensatories and $15 million in punitives a day later.
The Whitmire suit is one of thousands of Florida cases that stem from a 2006 Florida Supreme Court decision decertifying Engle v. Liggett Group Inc., a class-action tobacco suit originally filed in 1994. Although the state's supreme court ruled that so-called Engle-progeny cases must be tried individually, it found plaintiffs could rely on certain jury findings in the original case, including the determination that tobacco companies had placed a dangerous, addictive product on the market and had conspired to hide the dangers of smoking for decades.
Although the format has changed in the eight years Engle progeny cases have been tried across the state, trials are now bifurcated, with the punitive phase, if necessary, following the longer trial on Engle class membership.
The seven-day trial's first phase focused largely on whether nicotine addiction or choice drove Whitmire to smoke. During Tuesday's closing arguments in the trial's first phase, Jones Day's Steven Geise reminded jurors that Whitmire stopped smoking for months when she was about 20 and pregnant with her first child. Geise said evidence showed the months-long period that she didn't smoke would have been more than enough time for her nicotine withdrawal symptoms to pass. "This is a clean slate for Mrs. Whitmire when it comes to nicotine," Geise said. But, just after the birth of her child and amid widespread media reports of smoking's dangers, Geise said, "she made a knowing, adult decision to return to smoking."
However, Paige argued Whitmire was caught in a massive tobacco industry scheme designed to cast doubt on evidence of smoking's dangers, and she did not understand smoking's risks until she was hooked on nicotine. During Tuesday's closings, Paige highlighted thousands of tobacco industry documents detailing initiatives to hide the dangerous chemicals in cigarettes and undermine scientific findings concerning smoking's health risks. "She never knew that they were studying and marketing to teenagers. She never knew that the cigarettes she was smoking [contained] cyanide, arsenic, and formaldehyde. That's important information that smokers are entitled to have revealed to them," Paige said. "Instead of giving smokers crutches and rationales when they're trying to quit, that's the type of information that could motivate a smoker."
Jurors apportioned 67% of responsibility for Whitmire's death to Reynolds and found Whitmire 33% responsible.
The trial's second phase centered on whether changes to Reynolds and the tobacco industry as a whole over the last two decades mitigated against imposing significant punitives for the company's role in Whitmire's death. The defense offered evidence to argue sweeping changes in the industry, from restrictions on cigarette marketing to billions of dollars in payouts to state governments, ensured the days of tobacco conspiracies were over.
In his closing argument Wednesday, Geise reminded jurors the federal Food and Drug Administration now strictly regulates tobacco, while Reynolds provides extensive information on the dangers of smoking. "You know that Reynolds has a different position now [than during the conspiracy]," Geise said. "And, it's not just today that they developed that position. It was 17 years ago."
However Paige argued Reynolds' recent conduct did not make up for the company's role in a conspiracy that spanned much of the 20th century. "They were given a chance to do the right thing and regulate themselves and they didn't do it, they didn't want to do it," Paige said, referring to the conspiracy before FDA regulation of tobacco began in 2009. "What have they really done to mitigate any of the harm?" Paige asked. "They've done nothing."
After deliberating for about three-and-a-half hours, jurors declared themselves deadlocked on the issue of punitives, prompting Judge Karen Gievers to issue an Allen charge to the jury. The jury returned minutes later reiterating their impasse and prompting the mistrial declaration.
Email Arlin Crisco at acrisco@cvn.com.
Related Information
James Whitmire is represented by Gordon & Doner's Gary Paige and Wilner, Hartley & Metcalf's Richard Lantinberg.
R.J. Reynolds is represented by Jones Day's Jennifer Wiezenecker, Steven Geise, and Stephen Kaczynski.
Not a subscriber?
Learn more about CVN's unrivaled tobacco litigation library.