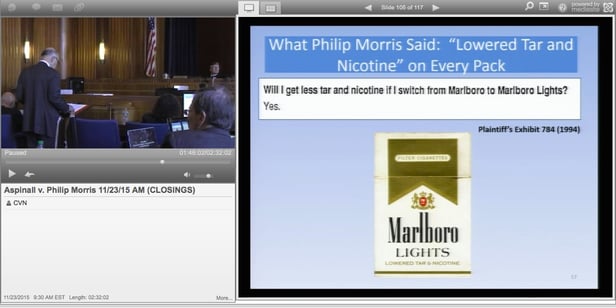 Plaintiff attorney Thomas V. Urmy Jr. delievers his closing argument. Click here to see video from the trial.
Boston — A trial has concluded in a class action brought on behalf of nearly 200,000 Massachusetts smokers who claim they were duped into buying Marlboro Lights by Philip Morris USA's advertisements that they contained less nicotine than normal cigarettes, leaving a state court judge to decide if the tobacco giant should pay up to $600 million in damages.
Attorneys delivered their closing arguments on November 23 following five weeks of testimony before Suffolk County Superior Court Justice Edward Leibensperger, who will decide the case without a jury. Originally filed in 1998, the class action has been one of the longest-running lawsuits in the history of tobacco litigation.
Justice Leibensperger indicated that he would issue a ruling in the case within 60 days. (Click here to see video of the trial.)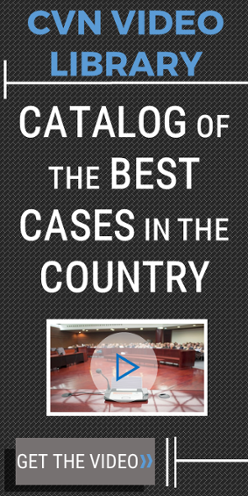 Thomas V. Urmy Jr. of Shapiro Haber & Urmy LLP , representing plaintiff Lori Aspinall, argued that from 1994 to 1998 Philip Morris marketed Marlboro Lights as being safer than Marlboro Reds despite knowing that the two brands delivered equivalent tobacco levels to smokers. Urmy claimed the tobacco company knew that machines used by the Federal Trade Commision to test the cigarettes didn't detect the levels of tar and nicotine real smokers actually inhaled.
According to Urmy, Philip Morris knew that actual smokers tend to draw more deeply from light cigarettes than the FTC's machines were calibrated to simulate, but the company still marketed Marlboro Lights as a safer alternative in order attract customers wary of the dangers of smoking.
He suggested that Philip Morris' claims induced Massachusetts smokers to purchase roughly 252 million packs of cigarettes worth up to $600 million.
During the trial Urmy presented an internal Philip Morris document from 1966 that postulated if the company marketed a supposed "healthy" alternative to Marlboro Reds that it would "probably become a best-selling brand."
"That was prophetic, because that's exactly what they did," Urmy said.
Representing Philip Morris, Gregory Stone of Munger Tolles & Olson LLP argued that studies performed by both the company and the Centers for Disease Control and Prevention proved that Marlboro Lights contained less tar and nicotine than Marlboro Reds, and that the plaintiff class suffered no actual injuries.
Stone told Justice Leibensperger that Massachusetts state regulators had also tested Marlboro Lights and found that they contained 20 to 24 percent less nicotine than regular Marlboros, which meant that Philip Morris' advertising wasn't deceptive.
"Marlboro Lights passed the test," he said. "They had lower nicotine."
Philip Morris is facing claims over the marketing of Marlboro Lights beyond Massachusetts. An Illinois state court judge awarded $10 billion in a similar case which remains on appeal, and a trial in Arkansas state court is scheduled for next August, according to court records.
The Massachusetts trial was webcast and recorded gavel-to-gavel by Courtroom View Network.
The case is Lori Aspinall, et al. v. Philip Morris USA, et al., case number SUCV1998-06002 in the Superior Court of Massachusetts for Suffolk County.