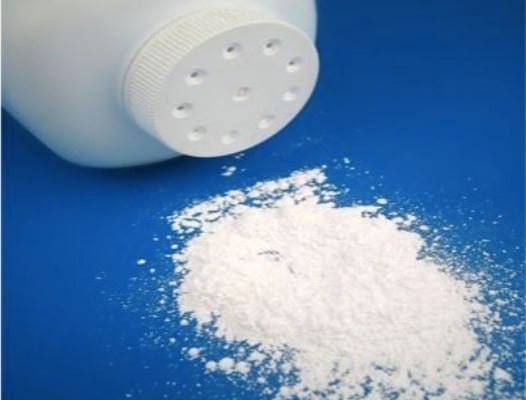 Stock image of talcum powder
Los Angeles, CA - One of the first in-person cosmetic talc trials to take place since last year's Covid-19 shutdown begins next week in California state court, and the proceedings will be webcast live gavel-to-gavel by Courtroom View Network.
Plaintiff Linda Zimmerman filed her lawsuit in 2018 claiming she developed mesothelioma from exposure to asbestos allegedly present in products manufactured by a number of companies. The only remaining defendant in the pending trial is Whittaker Clark & Daniels, the talc supplier to beauty products companies Avon, Revlon and Chanel.
Whittaker Clark & Daniels argues their talc never contained asbestos, and that Zimmerman did not develop mesothelioma due to exposure to their products.
The trial will take place in a normal courtroom with strict capacity requirements. Jurors will be seated throughout the gallery instead of the traditional jury box, and the trial marks one of the first opportunities for the public to see firsthand what the logistics of a "post-shutdown" cosmetic talc trial look like in practice.
CVN will be webcasting and recording the proceedings gavel-to-gavel from the start of opening statements forward. CVN has similarly recorded and webcast most of the cosmetic talc trials to date since 2016, when the talc cases began proceeding to trial with regularity. This includes both mesothelioma and ovarian cancer talc trials in courts throughout the United States, all of which are available with a subscription to CVN's online trial video library. (For a comprehensive list of CVN's cosmetic talc coverage to date click here)
Whittaker Clark & Daniels objected to electronic news media coverage of the proceedings, but those arguments were rejected by Judge David Cunningham.
Last year CVN webcast the first cosmetic talc trial to take place virtually, however that case in Alameda County ended in a mistrial after the death of the plaintiff.
The pandemic shutdown created a massive backlog of civil cases waiting for trial dates, and cosmetic talc cases could be among the first to go to trial as courts gradually come back online as plaintiffs stricken with mesothelioma seek to get cases in front of a jury before their health deteriorates further.
Another cosmetic talc trial involving Johnson & Johnson is set to begin later this month in Alameda County, with another case potentially going to trial later this summer in St. Louis, Missouri.
In the current case, Linda Zimmerman is represented by Leah Kagan, a shareholder with the Dallas-based firm Simon Greenstone Panatier.
Whittaker Clark & Daniels is represented by Viiu Spangler Khare and Jason Kort of Berkes Crane Robinson & Seal LLP.
The case is captioned Linda Zimmerman v. Autozone Inc., et al., case number BC720153, in the Superior Court of California for Los Angeles County.
E-mail David Siegel at dsiegel@cvn.com