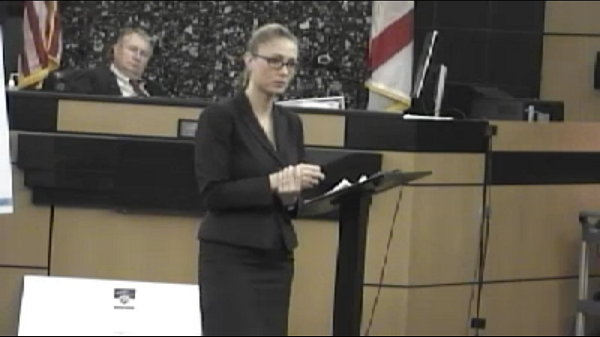 Andrea Robinson tells jurors in opening statements that Joan Beber's MDVIP physician, Dr. Charles Metzger, negligently failed to diagnose Beber's vascular disease, which led to the amputation of Beber's leg. Beber's widower, Robert, is suing Metzger and MDVIP. Click here to watch a clip of the opening statement.
---
West Palm Beach, FL—As the trial of a doctor and concierge medical firm accused of negligence surrounding the care of one of its patients entered its fifth day Wednesday, testimony focused on whether the concierge firm's affiliated physician should have diagnosed the vascular condition that cost the patient her leg. Beber v. MDVIP, et al., 50-2009-CA-034380.

Jurors Wednesday heard deposition testimony of Dr. Gary Gieseke, a neurosurgeon who examined Joan Beber on March 7, 2008, after a referral from Dr. Charles Metzger, Beber's primary physician and a defendant in the suit. Gieseke testified that Beber's leg, which Beber said was numb, felt "ice cold" to the physician's touch. Gieseke stated that he felt that Beber may have suffered from vascular disease, with decreased blood flow into her left leg, and that he recommended to Metzger the specific tests needed to diagnose or rule out the disease. Gieseke testified that "I just told him, I thought she had several things going on. But the main thing I was concerned about is (that) she might have a vascular impairment, meaning shutting off of arterial blood to the left leg." Gieseke testified that "I'd say (time was of the essence) when I called him" on March 7 to recommend further tests . Gieseke's March 7 medical documents of the visit requested Metzger fax the reports "of the vascular studies ASAP." Gieseke testified that Metzger said he would have the tests performed and faxed tests back to Gieseke's office on March 10, 2008.

Joan Beber first contacted Metzger's office in February 2008 complaining of leg pain but was referred and treated multiple times for back pain, despite the fact that her condition continued to deteriorate to the point that she could no longer walk. Physicians ultimately had to amputate Beber's left leg above the knee in mid-March 2008 because of a blood clot related to vascular disease. Joan Beber died in 2012 from leukemia, and her husband Robert pursued a suit against both Metzger and MDVIP, the concierge medical firm the Bebers had joined and which recommended Metzger.

Beber's attorney, Andrea Robinson, of Searcy Denney, claims Metzger was negligent in failing to diagnose Beber's vascular condition in time to save her leg, and that MDVIP was liable for the malpractice of its affiliated physician. In opening statements last Thursday, Robinson told jurors that Metzger failed to see clear signs of vascular disease. "This was preventable. This didn't have to get this far," Robinson said. "But Dr. Metzger's failure to consider anything else but a back problem got us to where we are today."

Robinson also told jurors that MDVIP is liable for Metzger's alleged malpractice on agency principles because of its ties with the physician and its right to control Metzger's practice. "Dr. Metzger is (MDVIP's) doctor," Robinson said. "You're going to see a slew of different areas where they actively control and pull the different strings of an MDVIP doctor."

Robinson told the jury that MDVIP promised the Bebers when they agreed to sign up for the concierge medical service that they would provide the couple with a medical "quarterback" that would deliver appropriate care. "And if he's their quarterback, then they're the coach. And they're the ones calling the plays," Robinson said. "And what happens when someone loses the game? Sure the quarterback's on the hook, but so's the coach."

However, the defense contends that Metzger was an independent contractor and that MDVIP was not responsible for his medical judgment. Gray Robinson's David O. Doyle, representing the defense, told jurors in openings that "MDVIP is not a healthcare provider. They don't treat diseases. They don't diagnose diseases. They have a program where their members become part of a smaller practice so that they can focus, with their physician, on their healthcare."

Doyle also told jurors that MDVIP explicitly informed the Bebers that they were not responsible for physicians' treatment at the time the couple signed up for the plan. "MDVIP could not have been clearer," Doyle said, before reading from promotional materials: "'Your doctor owns the practice, manages the practice, and MDVIP has absolutely no involvement whatsoever in any medical decisions.'"

Doyle emphasized during openings that, regardless of MDVIP's connection to Metzger, the evidence would show that the doctor did not violate standards of care. "The plaintiffs in this case are going to try very hard to convince you that Dr. Metzger, who's not a (vascular) specialist, should have made a diagnosis that (a vascular) specialist didn't make. Even with more information than he ever had," Doyle said. "And that's simply why this is a case of misplaced blame."

Attorneys could not be reached for comment on the trial's progression.
---

Related Information

Attorneys in the case include:
Andrea Robinson, Karen Terry and Jack Scarola, from Searcy Denney, representing the plaintiff.
David O. Doyle, Jeffrey Keiner, and Justin Marshall, from Gray Robinson, representing defendants.
Watch live and on-demand video of the trial.
Not a subscriber?
Learn how you can watch CVN Florida's unparalleled coverage of the state's key trials.