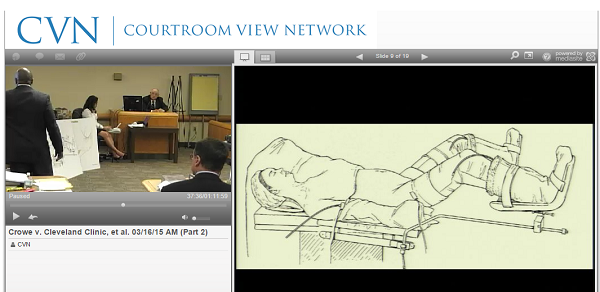 Dr. Brian McAlary details how he believes Daniel Crowe's "suboptimal" positioning led to nerve damage in his left arm. Crowe is suing The Cleveland Clinic Florida and Drs. Steven Wexner and Jeffrey Jacobs, claiming poor positioning during his 2010 colon surgery permanently damaged nerves in his left arm and ended his career as a commercial pilot.
---
Fort Lauderdale, FL--As the trial of a former pilot suing a clinic he claims was responsible for nerve damage that ended his flying career enters its second week, an anesthesiology expert testified that he believed that the pilot's injury occurred because of poor positioning during a colon surgery at the clinic. Crowe v. The Cleveland Clinic, CACE1120220.
Dr. Brian McAlary, an anesthesiologist, told jurors Monday that he believed Daniel Crowe sustained a brachial plexus injury, or injury to the network of nerves running from the spine to the arms and hands, during intestinal surgery performed by Dr. Steven Wexner, the surgeon during the procedure and Dr. Jeffrey Jacobs, the anesthesiologist, at the Cleveland Clinic Florida.
"There's no doubt in my mind" that (surgery) is when Crowe's nerve damage occurred, McAlary said.
Crowe, a former pilot for American Airlines, claims that his positioning for his 2010 colon surgery damaged his brachial plexus, permanently injuring the nerves to his left hand so seriously that he can no longer fly. He is suing Wexner, Jacobs, and The Cleveland Clinic for for $6.5 million in economic damages, plus unspecified damages for pain and suffering.
During testimony Monday, McAlary walked jurors through diagrams of Crowe's surgical position, which included him lying in a head-down position with supportive a bean bag placed over each clavicle. McAlary noted that Crowe initially complained of nerve damage symptoms in the top of both arms, which he considered a clue to the injury's origin. "Adding all of those (factors) up, the only reasonable conclusion is (the injury) happened during the surgery, and it happened due to the use of a bean bag with suboptimal positioning," McAlary said.
However, on cross examination, McAlary told jurors that although he believed Crowe suffered either a stretch injury or compression injury, he acknowledged that he could not say with a reasonable degree of medical probability whether a compression injury played a role in the case.
Attorneys for the parties could not be reached for comment.
Trial is expected to last approximately two more weeks. CVN is recording select portions of the trial.
---
Additional information
Attorneys include Searcy Denney's John Shipley and Darryl Lewis, representing Daniel Crowe, and Stearns Weaver's Thomas Aubin and Matthew Podolnick, representing the defense.
Watch select portions of the trial on demand.
Not a subscriber?
Learn how you can watch CVN Florida's unparalleled coverage of the state's key trials.