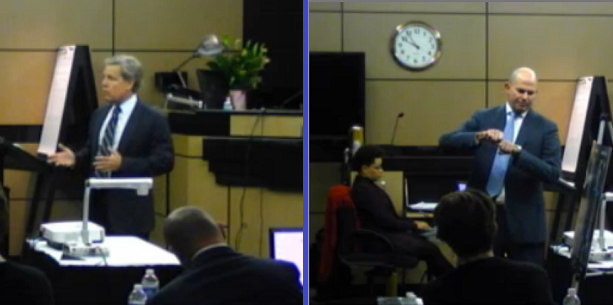 Bruce Ramsey, left, and Gregg Hollander, right, deliver opening statements at trial against Boca Raton Regional Hospital over the paralysis Kathleen Silkworth, represented by Hollander, claims was caused by medical negligence.
---
West Palm Beach, FL—Attorneys sparred over whether a car accident or medical negligence paralyzed a South Florida woman, as trial opened Monday against the hospital that treated her following her late-night crash. Silkworth v. Boca Raton Regional Hospital, 2013CA013276.
Kathleen Silkworth is paralyzed from the waist down because of a June 2012 spinal injury she suffered when a car T-boned the taxi in which Silkworth was traveling as a backseat passenger.
Silkworth contends that, although the crash damaged her spine, the Boca Raton Regional Hospital's failure to follow appropriate protocol in immobilizing her spine ultimately paralyzed her.
During Monday's opening statements, Silkworth's attorney, the Hollander Law Firm's Gregg Hollander, told jurors medical reports immediately following the accident showed Silkworth could feel and move her arms and legs. He said Silkworth did not report symptoms of paralysis until well after she arrived at the hospital and underwent tests and treatment without spinal immobilization precautions.
"The experts will tell you, that, had Ms. Silkworth received spinal immobilization from the moment she arrived at that hospital, that she would have preserved the neurologic function, the movement that was documented by the paramedics, by the hospital, and observed and testified to by her health care team," Hollander said. "When the hospital breached [the] standard of care by moving Kathleen around without protecting her spine, she sustained complete paraplegia."
Hollander said the hospital's failure to immobilize Silkworth's spine until it determined the extent of her injuries violated its own clear-cut protocol. During Monday's openings, Hollander showed excerpts of what he said was a manual on spinal injury treatment, which ended with the phrase "If in doubt immobilize."
"[The staff] were all trained on this. They all had checklists. They all had supervisors who checked off these skills that they knew how to do," Hollander said. "This spinal immobilization is something that should [have been] done from the moment Kathleen arrived and maintained throughout her stay in the emergency department, until they were able to rule out that she had an unstable spine fracture."
Hollander told jurors he would request "millions" of dollars in damages for Silkworth's medical expenses, as well as as damages for her pain and suffering and her son Noah's loss of parental support.
However, the defense contends the crash itself paralyzed Silkworth. On Monday, Bruce Ramsey, of Billing, Cochran, Miles, Lauro & Ramsey, told jurors expert testimony would establish the crash "obliterated" Silkworth's spine, permanently paralyzing her.
Ramsey said evidence would show Silkworth was unbelted at the time of the crash, and he noted she was intoxicated and unable to give a full account of her injuries immediately following the wreck.
Ramsey said medical personnel who responded to the scene would characterize their own post-accident reports as unreliable. "They will tell you that not one of them undertook a neurologic assessment of Ms. Silkworth's lower extremities. They made some assumptions," he said. "They're going to tell you that they made a mistake....
"What they did not know based upon the assessment, or lack thereof, that they had undertaken when they left that hospital is that, before the cars had come to rest, Ms. Silkworth was a paraplegic," Ramsey said.
Trial in the case is expected to last through mid-December.
Email Arlin Crisco at acrisco@cvn.com.
Related information
Kathleen Silkworth is represented by The Hollander Law Firm's Gregg Hollander and by Burlington & Rockenbach's Adam Richardson and Andrew Harris.
Boca Raton Regional Hospital is represented by Billing, Cochran, Miles, Lauro & Ramsey's Bruce Ramsey and Shirley DeLuna and by Sylvia Reichert.
Watch the trial live and on demand.
Not a subscriber?
Learn how you can watch the best attorneys in the biggest trials, in Florida and across the country.