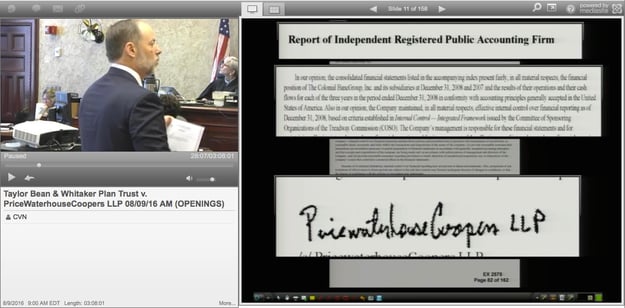 Attorney Steven Thomas gives his opening statement on behalf of a bankrupt mortgage company claiming it lost billions because of faulty audits performed by PwC. Click here to see video from the trial.
Miami - A Florida state court jury heard opening statements on Tuesday in the largest accounting negligence lawsuit ever to go to trial, with attorneys for a defunct mortgage company's bankruptcy trust accusing PricewaterhouseCoopers LLP of performing negligent audits that contributed to the multibillion collapse of Colonial Bank at the peak of the housing crisis.
An attorney for the trust set up in the wake of Taylor Bean & Whitaker Mortgage Corp.'s 2009 bankruptcy told jurors that the Big Four firm should pay over $5.5 billion in damages for failing to detect a multiyear fraud carried out by top Taylor Bean executives involving funds deposited in Colonial accounts from mortgage loans that either didn't exist or that other investors already purchased. Taylor Bean was the largest customer of Colonial's mortgage lending division, which used PwC as the bank's auditor.
The trial marks the most high-stakes case ever presented to a jury over a question that has long-vexed the accounting industry, namely what circumstances are required for an auditor to be responsible for detecting fraud.
According to Steven Thomas of Thomas Alexander Forrester & Sorensen LLP, if PwC hadn't signed off on Colonial's books, then executives at Taylor Bean not involved with the fake mortgage scheme could have put a stop to it before the company went bankrupt. Former chairman Lee Farkas and five other executives were convicted on related criminal charges, with Farkas sentenced to 30 years in federal prison.
"Year after year, Pricewaterhouse didn't do their job, they didn't follow the rules and they failed to detect the fraud," Thomas said during his opening statement, according to a Courtroom View Network webcast of the trial.
The mortgage company's demise ultimately forced the Federal Deposit Insurance Corp. to step in and shut down Colonial, resulting in $4.2 billion in cleanup costs and the sixth largest banking failure in U.S. history. A separate lawsuit filed by the FDIC against PwC is pending in Alabama federal court and is scheduled for trial early next year.
Taylor Bean's bankruptcy trust reached a confidential settlement with their own accounting firm Deloitte & Touche in 2013.
PwC has argued that even properly performed audits don't necessarily catch carefully concealed frauds, and that collusion between Colonial and Taylor Bean executives made their actions particularly difficult to detect. The company also claims the illegal conduct by Taylor Bean's top brass renders their bankruptcy trust unable to collect damages under Florida law.
During her opening statement on behalf of PwC, Beth Tanis of King & Spaulding repeatedly referred to the "criminals" in charge of Taylor Bean, emphasizing the term over and over throughout the duration of her remarks and in her accompanying visual aids.
"Remember, Taylor Bean's owner and half of its board of directors were criminals," Tanis said. "They didn't rely on Pricewaterhouse's audit report because they knew about the fraud they were committing."
Thomas argued that Farkas' fraudulent activity, which went back as far as 2002, could have been easily caught if PwC had properly scrutinized Taylor Bean's accounts at Colonial before certifying them. Rather than take Colonial's word about the integrity of the accounts, Thomas said PwC should have been more proactive in verifying that information on their own and inspecting records directly.
"PricewaterhouseCoopers failed to do its job because they relied on unsigned contracts and just needed one phone call," Thomas said.
However Tanis told jurors that Colonial maintained an entire department whose sole responsibility was detecting fraud, which she argued wasn't PwC's assignment when they were hired by Colonial.
"Colonial Bancgroup every year hired PwC to audit its financial statements. Colonial Bancgroup did not hire PwC to conduct a fraud audit," Tanis said.
Taylor Bean's trustee, Neil Luria, was the first witness called to the stand, and he testified throughout the day on Tuesday afternoon and Wednesday.
The trial before Miami-Dade County Circuit Judge Jacqueline Hogan Scola is expected to take six weeks to complete, and the full proceedings are being webcast live and recorded gavel-to-gavel by CVN.
The plaintiffs are represented by Thomas Alexander Forrester & Sorensen LLP and Texas firm Ackels & Ackels LLP, along with local Florida firms Gamba Lombana & Herrera, Gonzola Dorta PA, and Berger Singerman LLP.
PwC is represented by King & Spalding attorneys from New York, Washington DC, Georgia, California and North Carolina, along with local Florida counsel from Sedgwick LLP, Kenny Nachwalter PA, and White & Case LLP.
The case is Taylor Bean & Whitaker Plan Trust v. PricewaterhouseCoopers LLP, case number 2013-33964-CA-01, in the Circuit Court for the Eleventh Judicial Circuit of Florida.
E-mail David Siegel at dsiegel@cvn.com.