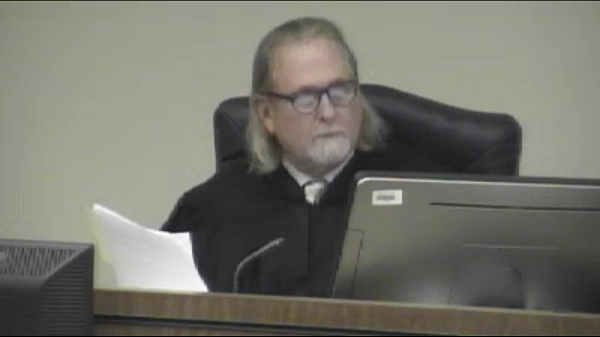 Judge Thomas Lynch questions jurors following their partial verdict in Caprio v. Philip Morris. Click here for Tuesday's proceedings, including jury question and verdict.
---
Fort Lauderdale, FL—After nearly three full days of deliberations, a jury's partial, potentially inconsistent, verdict Tuesday in a smoker's Engle progeny suit against four of the country's largest tobacco manufacturers raised questions of a mistrial and jeopardized its half-million-dollar award. Caprio v. Philip Morris, 2007-CV-036719.

Edward Caprio sought more than $13.3 million in his suit claiming cigarettes made by R.J. Reynolds, Philip Morris, Lorillard, and the Liggett Group caused his chronic obstructive pulmonary disorder. After receiving the case Friday morning, jurors on Monday expressed difficulty reaching a verdict, prompting Judge Thomas Lynch to deliver an Allen charge. By Tuesday afternoon, the jury announced they reached consensus on only four of seven questions on the verdict form, including addiction causation and allocation of responsibility. Although the jury awarded Caprio $559,172 for his medical expenses and lost earnings, it failed to agree on an award for pain and suffering or entitlement to punitive damages. Under questioning from Judge Lynch, the jury also recanted verdict form answers in favor of Caprio on two fraud-reliance questions.

After the jury's verdict and outside its presence, defense counsel repeatedly moved for a mistrial, which Judge Lynch said he would consider during future post-verdict proceedings. Shook Hardy Bacon's Walter Cofer, representing Philip Morris, told Judge Lynch that that the partial verdict, combined with the jury's repudiation of issues on which it initially claimed to reach agreement, rendered the decision unsalvageable. "Thank you for all of your efforts to salvage a partial verdict. Let's release (the jury) and thank them for their service, and let's go home," Cofer said. "We have a mistrial."

However, the Schlesinger Law Offices' Scott Schlesinger, representing Caprio, argued that the partial verdict should stand, reasoning that early Engle trials in Broward County were typically bifurcated proceedings on the issue of liability and damages. Schlesinger also claimed that defense counsel's motions for mistrial were made to avoid the verdict's fundamental finding of liability. "Why is it so important for the defendant to have a complete mistrial and not have any result from this case whatsoever?" Schlesinger said. "Who benefits? Where's the sincerity in their arguments?"

A decision on any motion for mistrial is not expected to be made until after conclusion of post-verdict proceedings.

Caprio, 72, started smoking when he was 15, and claims he most recently quit last month, nearly 19 years after he was first diagnosed with COPD. Caprio now relies on around-the-clock oxygen supplementation.

Addiction formed a key issue at trial. Caprio's attorney, Schlesinger Law Offices' Steven Hammer, reminded jurors in closings last week of expert testimony concerning Caprio's nicotine addiction and described his client as still "hopelessly addicted" to cigarettes.

Conversely, defense attorneys argued that Caprio's multiple quit attempts over the decades, some of which extended for months at a time, established that environmental and behavioral triggers, rather than addiction, fueled Caprio's smoking. "If Mr. Caprio was so hopelessly addicted to nicotine that he simply couldn't function without it, how did he manage to quit smoking for six months in 1985 or '86; three of four months in 2001; or for four, five, or six months in 2005; or since January 1, 2015? If he was so hopelessly addicted to nicotine, how could he do that?"

Neither the attorneys for the parties, nor representatives of the tobacco manufacturers involved, could be reached for comment.
---
Our weekly review is curated from our unequaled gavel-to-gavel coverage of Florida's Engle progeny cases.
Not a subscriber?
Click here to learn more about our expansive tobacco litigation library.