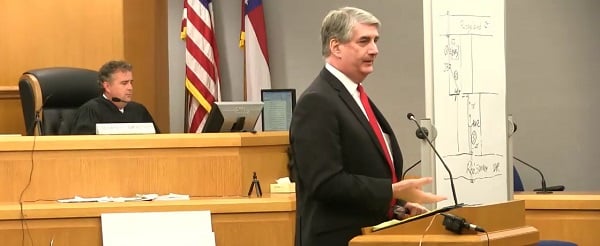 Larry Stewart tells jurors Gwinnett County's control of a drainage pipe renders it responsible for flood damage to Jay and Lori Swift's property.
---
Lawrenceville, GA—A $189,000 October verdict against Gwinnett County capped nearly a half-decade of litigation by a couple who claimed the county refused in bad faith to pay for flood damage a drain system caused to their property. Swift v. Gwinnett County, 11-C-08314-S2.
Jurors awarded $113,000 in damages and $76,000 in attorney fees and expenses to Jay and Lori Swift, who contended a county-controlled drainage system caused their Lilburn property to flood, damaging their septic system, and the county compounded the problem by refusing to pay the claim and forcing them to sue in 2011.
The trial turned on whether Gwinnett County or the property's prior owner, Tim Halstead, who was not a party to the case, bore responsibility for the flooding. During closing statements, Forrest Fields, representing Gwinnett County, reminded jurors of evidence contractors hired by Halstead worked on the drainage system that caused the flooding. Fields argued Halstead violated his duty to disclose flooding problems when he sold the property to the Swifts, and the county was not responsible. "With all due respect to the Swifts, Gwinnett County is not an insurance business. The county cannot be asked to save people who are misled and who buy property in a bad transaction," Fields said. "The county didn't cause this problem."
Beyond the property damage claim, Fields urged jurors to reject the Swifts' claim of attorney fees for the county's alleged stubborn litigiousness and bad faith. Reading the definition of bad faith, which includes a "conscious doing of wrong" and "moral obliquity" among other elements, Fields argued the county's actions did not rise to that level. "Having a cumbersome bureaucracy where decisions are hard to make is not bad faith," Fields said. "The only bad faith, the only breach of legal duty, the only moral obliquity, whatever that may be, that's involved with this case came from Tim Halstead and the way he treated Mr. and Mrs. Swift."
However, the Swifts contended the county's control of a drainage pipe improperly installed 30 years ago caused the flooding. During his closing argument, Larry Stewart, representing the Swifts, argued evidence proved Halstead paid for the installation of county-purchased pipe in 1996 in an attempt to solve a flooding problem that existed for years. Referring to the defense's characterization of Halstead as the party to blame, Stewart said "Now why would Mr. Halstead, this 'mean, nasty guy,' agree to pay to put a pipe in the ground if he didn't have a tremendous storm and runoff flooding problem at that time? He did have a big problem."
In requesting attorney fees, Stewart argued Gwinnett County had ignored years' worth of neighborhood complaints about the flooding and had forced the Swifts to sue to recover, despite evidence of the county's responsibility. "Should this lawsuit have taken four years? "Stewart asked. "Should they have resolved it once it was styled? Should they have prevented it from ever having been filed to begin with?"
The $189,000 award was the the lion's share of Stewart's request for more than $200,000, including $135,000 in damages.
CVN will publish gavel-to-gavel trial coverage of the case as soon as it is available.
---
Related Information
Larry Stewart represents Jay and Lori Swift.
Forrest Fields represents Gwinnett County.
CVN will publish gavel-togavel coverage of the trial as soon as it is available.
Not a Subscriber?
Learn more about CVN's unparalleled coverage of top Georgia trials.