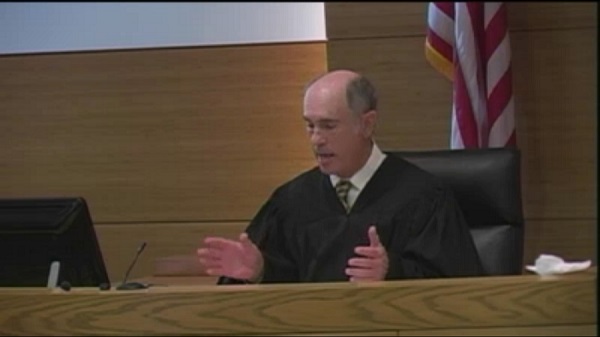 Judge Peter Dubensky declared a mistrial Tuesday in Dupre v. R.J. Reynolds after plaintiffs' attorneys failed to disclose a change in the testimony of Kevin Dupre, the son of Richard Dupre, whose 1994 death from artery disease launched the Engle suit against R.J. Reynolds. Click here for the proceedings leading to the mistrial declaration.

---
Bradenton, FL—A 12th Circuit judge declared a mistrial Tuesday after attorneys for the widow of a bodybuilder who died of artery disease failed to disclose a change in key witness testimony.
The mistrial came four days after openings in Madonna Dupre's suit against R.J. Reynolds for the 1994 death of her husband, Richard Dupre. Madonna Dupre claims that her husband, a bodybuilder who smoked at least a pack of cigarettes a day for decades, died because of a nicotine addiction caused by R.J. Reynolds.
The mistrial stemmed from Monday's testimony by Kevin Dupre, Richard Dupre's son, who said he remembered his father using nicotine patches and nicotine gum while trying to quit smoking. His statements on the witness stand Monday differed from prior sworn statements in which he claimed he could not remember details of his father's quit attempts.
Judge Peter Dubensky on Tuesday described the failure to disclose the change in testimony as "grievous." In ordering the mistrial, Judge Dubensky said the testimony affected the issue of Richard Dupre's alleged nicotine addiction and that Dupre's attorneys breached their obligation of disclosing Kevin Dupre's planned testimony when they learned of it on Sunday. Judge Dubensky said Motley Rice's Lance Oliver, representing Madonna Dupre, understood "the significance of this new ammunition, and for whatever reason… he didn't disclose it."
Judge Dubensky noted that the testimony could not now be excluded and that defense attorneys had not had a chance to prepare the jury for an aggressive cross-examination of Kevin Dupre's inconsistent statements. The judge said these issues placed the defense in "an untenable position, all of which is brought on the [plaintiff's attorneys] themselves by the non-disclosure."
"I'm not a judge who [typically] grants mistrials," Dubensky said. "In this case, I don't have a choice."
This is the second trial CVN has covered in this case. In April 2014, Judge Dubensky declared a mistrial when jurors declared themselves unable to reach a verdict in the case.
---
Arlin Crisco can be reached at acrisco@cvn.com.
Our weekly review is curated from our unequaled gavel-to-gavel coverage of Florida's Engle progeny cases.
Not a subscriber?
Click here to learn more about our expansive tobacco litigation library.