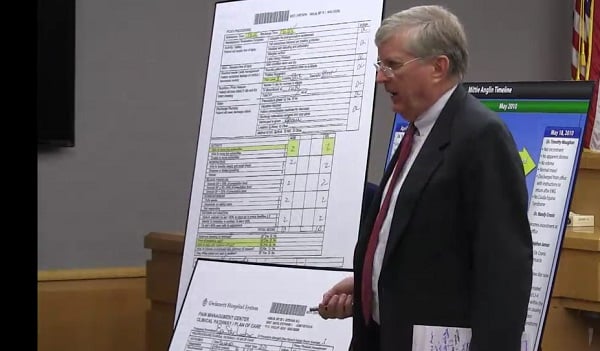 Wade Copeland delivers closing arguments on behalf of his client, Dr. Stephanie Smith, who was cleared Monday in a $6.3 million malpractice suit by one of her pain management patients, Mittie Anglin.
---
Lawrenceville, GA—A jury Monday cleared a pain management physician of liability for a patient's debilitating spinal injury. Mittie and James Anglin v. Dr. Stephanie Smith, M.D., 12-C-02515-S3.
Jurors concluded Dr. Stephanie Smith did not breach medical protocol after a 2010 pain management injection she gave Mittie Anglin. Days after the injection, Anglin underwent surgery for cauda equine syndrome, a spinal compression that has limited her ability to walk and engage in daily activities. She claims Smith and her staff should have referred her for emergency treatment following the pain injection because her condition had clearly worsened.
Anglin's attorney, Andersen, Tate & Carr's Render Freeman, requested more than $6.3 million for her injuries. "The amount needs to be as jarring, as profound, as significant as the inability to walk," Freeman said.
The verdict, reached after about two hours of deliberations, capped a week-long trial in which attorneys sparred over Anglin's condition and whether she complained of increased pain and weakness following the procedure.
Anglin claims Smith and the facility's staff discharged her following the injection, ignoring her complaints of increased pain and weakness, which Anglin testified required her to use a wheelchair to leave the facility.
During Monday's closings, Freeman reminded jurors of Anglin's contentions and claimed evidence to the contrary was due to inaccurate documents and a "circle the wagons" defense from Smith's medical colleagues.
Freeman acknowledged medical records indicated Anglin walked out of the medical facility, but he pointed to testimony from the facility's nursing staff that those records were sometimes inaccurate. "The defendants want you to believe that the medical records are as perfect as a diamond. Flawless," Freeman said. "But all the nurses have told us that they're not flawless. All the nurses have told us that it might say checked ambulatory, but (the patient takes) a wheelchair anyway."
However, Smith's attorney, Carlock Copeland's Wade Copeland, argued the medical records, on their face, disproved Anglin's story. "Method of discharge, and the answer is ambulatory," Copeland said, highlighting entries in Anglin's post-procedure medical records. "It doesn't say 'wheelchair,' it doesn't say 'other.' It means she was able to walk then."
Copeland contended staff testimony and discharge protocol supported the records. "Every one of (the nurses) said the discharge criteria was, '(Anglin) had to show she could walk, and if she's having excess pain we're going to call Dr. Smith,' and Dr. Smith says 'If she's having those problems, we're going to send her right over to the emergency room.' And that did not happen."
The parties' attorneys could not immediately be reached for comment.
Email Arlin Crisco at acrisco@cvn.com.
---
Related Information
Mittie and James Anglin are represented by Andersen, Tate & Carr's Render Freeman.
Stephanie Smith is represented by Carlock Copeland's Wade Copeland.
CVN will offer gavel-to-gavel video coverage of the trial as soon as it is available.
Not a Subscriber?
Learn more about CVN's unparalleled coverage of top Georgia trials.