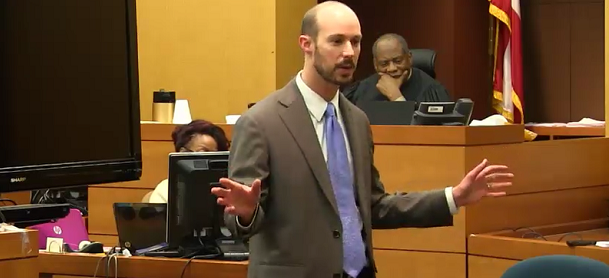 Jeb Butler delivers closings at trial against Debra Blake, who caused the accident Butler says injured his client, Veronica Uballe, and her daughter. Jurors awarded $45,000 in the case Tuesday.
---
Atlanta—Jurors Tuesday awarded $45,000 to a mother and daughter injured in a 2013 collision with a drunk driver, but they refused to award punitive damages in the case. Uballe v. Blake, 14EV00917.
Veronica Uballe claims she suffered head, neck, and back injuries, while her three-year-old daughter Valerie suffered trauma because of a collision caused by Debra Blake as they sat parked at an intersection in Alpharetta.


Blake was arrested following the collision for driving under the influence of alcohol.
The jury's verdict followed two hours of deliberations and closings in which Veronica Uballe's attorney, Butler Tobin's Jeb Butler, requested $90,000 in compensatory damages and asked the jury to find punitives were warranted.
Following the verdict, Butler said the case was "superbly defended" by Blake's legal team. "The jury chose to award approximately three times the special damages," Butler said. "And we respect their verdict."
Blake admitted responsibility for the accident, leaving the determination of damages the only issue. During Tuesday's closings, Blake's attorney, Waldon Adelman's Jonathan Adelman, challenged Uballe's claim that she continues to suffer neck and back pain from the incident. Adelman reminded jurors Butler did not call Uballe's family members, including her father and sister, to testify about alleged lingering effects from the accident. "It's up to you to decide why you haven't heard from those [people]," Adelman said.
Instead, Adelman noted Uballe claimed no specific damages for medical treatment after April 2013, and he argued her failure to remember what day the accident occurred undercut her claims of emotional trauma. "When you're saying you're traumatized by an event, you remember those kind of details," Adelman said. "You remember what day of the week it was, if you're traumatized."
However, Butler argued medical evidence supporting Uballe's claims of continuing neck and back pain following the accident was uncontroverted. Highlighting portions of medical documents describing Uballe's symptoms, Butler said "In terms of meeting the burden of proof, there's no contrary evidence."
Butler also contended that the defense's criticism of plaintiff's case rang hollow when the defense offered no evidence of its own. "[The] defense argues that we haven't met [the] burden [of proof,]" Butler said. The only evidence in the case is what you heard from the plaintiffs because the defense put on none, not a shred of evidence, not a document during our witnesses."
Butler contended Blake's level of intoxication and her failure to take the stand and admit remorse warranted their claim for damages, including punitives. "[Blake's attorney] Ms. [Ashley] Rice stood up and, I thought, gave a very eloquent and good opening statement talking about [Blake being] embarrassed, humiliated, terrible example for her daughter, all those things," Butler said. "But there's not a shred of evidence about any of it. "The defendant didn't take the stand."
But Adelman told jurors Blake was not obligated to take the stand and the defense bore no burden of proof in the case. Noting Blake's criminal penalties following the accident, Adelman said a rejection of punitive damages "doesn't mean you're saying her conduct was OK on this night. That doesn't mean you think drinking and driving is OK. All that means is that you recognize that Debra has been punished."
Attorneys for the defense could not be reached for comment following the verdict.
Email Arlin Crisco at acrisco@cvn.com.
Editor's note: This article was updated to correct plaintiff's damage claim.
---
Related Information
Butler Tobin's Jeb Butler represents Veronica Uballe.
Waldon Adelman's Jonathan Adelman and Ashley Rice represent Debra Blake.
CVN recorded the trial and will offer its video on demand as soon as it is available.
Not a Subscriber?
Learn more about CVN's unparalleled coverage of top Georgia trials.