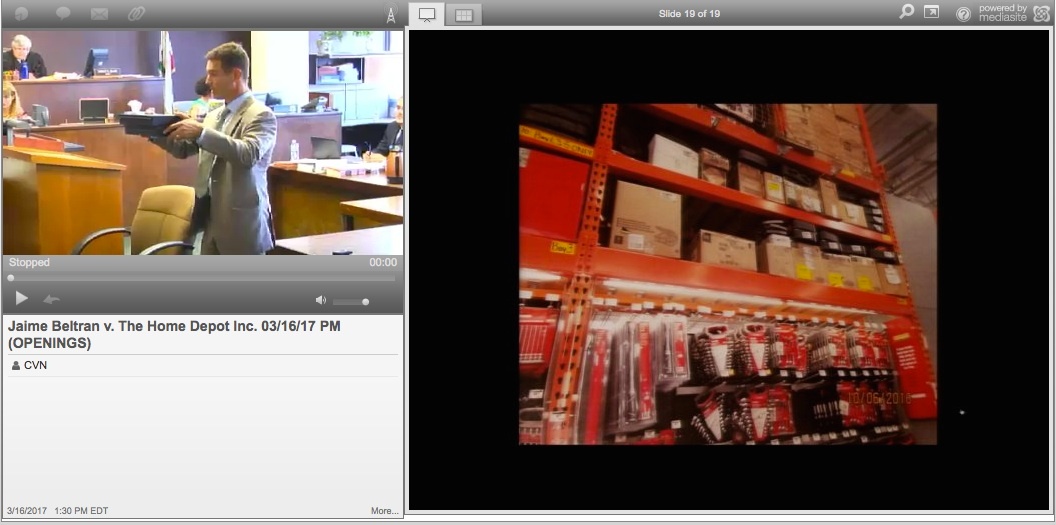 CVN screenshot of Nick Rowley delivering his opening statement in Beltran v. Home Depot
On July 10, 2020 at 11:00am PST, prominent attorneys Nicholas Rowley and Courtney Rowley will host a webinar offering the rare opportunity to see two of the country's top trial lawyers breaking down real courtroom video from their traumatic brain injury trials.
This one-of-a-kind webinar, hosted jointly by TBI Med Legal - one of the largest attorney and health care provider educational associations dedicated to education surrounding traumatic brain injuries, Trial By Human - a renowned trial attorney training program founded by the Rowleys, and Trial Guides - a leading continuing legal education group dedicated to trial practice, will give participants a front row seat to the same openings and testimony the jury saw. Trial video will be provided by Courtroom View Network, home of the world's only online video library of civil jury trials.
Register via the link below to guarantee your spot (make sure to select the July 10 option).
https://us02web.zoom.us/webinar/register/WN_nphrFW5TQXa4zFyRAVbzpw
Nick and Courtney will be joined by attorney Erica Chavez of the Los Angeles-based law firm BD&J PC who serves as Chair of the Brain Injury Association of California.
The program will also feature two veteran medical experts in brain injury medicine, neuropsychiatrist Dr. Lester Zackler and physiatrist Dr. David Patterson. Nick, Courtney & Erica believe these two physicians to be among the best of the best brain injury experts they have ever worked with.
Participants will have the unique chance to hear from these medical experts with over 30 years of experience AND to see both of the Rowleys in trial delivering some of the most effective opening statements from the many TBI cases they've taken on. They will actually show participants how to present a brain injury case to a jury. Nick, Courtney, Dr. Zackler and Dr. Patterson, will walk participants through the anatomy of a brain injury case, how to ethically investigate and evaluate these complex cases, and go through the parts of a jury trial. Participants will learn key elements of voir dire and opening statements, sequencing of witnesses and evidence and see the demonstratives that are used to help educate jurors.
As an example, participants will see courtroom video from a trial that took place in Bakersfield, California in 2017. The brain injury victim, Jamie Beltran, sought up to $50 million after a Home Depot employee on a ladder accidentally dislodged two laptop-sized metal boxes containing re-keying supplies from a shelf, and they fell onto Mr. Beltran's head from a height of roughly eight feet. Mr. Beltran did not lose consciousness, no ambulance was called, and all the neurological tests at the emergency room later that day were normal. Rowley explained the anatomy of traumatic brain injury to jurors and told the human story of his client's pain, anxiety, depression, memory problems and decreased capacity for "executive function" in an epic opening statement that resulted in immediate resolution of the case.
"It took Courtney and I many years and many trials to discover the human story and learn how to effectively present a brain injury case to a jury," Rowley said of the upcoming webinar. "We will teach you what we have learned, give you the anatomy of a brain injury case and trial using real live trial footage, and include commentary and important lessons from two of the top brain injury experts in the field."
Real courtroom video footage will be provided by Courtroom View Network, the only news gathering organization in the country exclusively dedicated to gavel-to-gavel video coverage of civil trials. CVN offers the world's only online trial video library, featuring hundreds of trials and numerous TBI cases. Upon the conclusion of the webinar participants will receive an exclusive CVN coupon code offering a 50% discount on an annual subscription to CVN's online video trial library.
Sign up today to guarantee your spot before July 10!
https://us02web.zoom.us/webinar/register/WN_nphrFW5TQXa4zFyRAVbzpw
"Any trial attorney doing TBI work would be completely insane not to watch this epic and unprecedented program.'' - Erica Chavez, Chair, Brain Injury Association of California