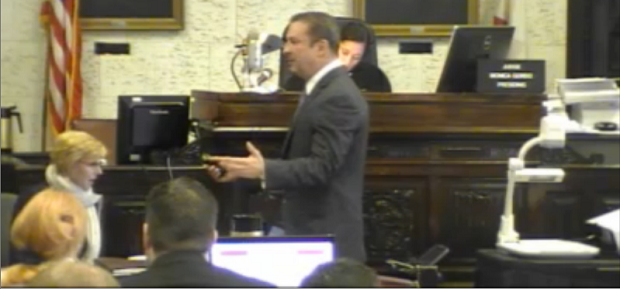 Richard Diaz gives his closing argument at trial against Philip Morris for the lung cancer death of Bert Sommers.
---
Miami—A Florida State Court jury Thursday awarded $1 million to the widow of a lawyer and real estate developer after finding Philip Morris responsible for his coronary artery disease and fatal lung cancer. Sommers v. Philip Morris, 2008-CA-001464.
The Dade County 11th Circuit Court jury needed three hours to find Bert Sommers' coronary artery disease and cancer were caused by his addiction to nicotine and more than 55 years of smoking. However, jurors, who allocated 60% of responsibility to Sommers for his smoking-related diseases and apportioned 40% to Philip Morris, refused to award punitive damages.
Sommers, who earned his law degree from the University of Chicago in 1949 and went on to spearhead Chicago-area development projects, was 80 when he died of lung cancer in 2007. His wife, Steffany Sommers, claims Philip Morris' participation in a long-running conspiracy to hide the dangers of smoking hooked her husband on cigarettes and caused his lung cancer.
The Sommers case is one of thousands of Engle progeny cases in Florida, which stem from a 2006 Florida Supreme Court decision decertifying Engle v. Liggett Group Inc., a class-action tobacco suit originally filed in 1994. Although the state's supreme court ruled that so-called Engle-progeny cases must be tried individually, it found plaintiffs could rely on certain jury findings in the original case, including the determination that tobacco companies had placed a dangerous, addictive product on the market and had conspired to hide the dangers of smoking through much of the 20th century.
However, in order to establish Engle class membership, a plaintiff must prove nicotine addiction caused a smoking-related disease that "manifested" between May 5, 1990 and November 21, 1996.
The 1996 cutoff date was a central issue in the nine-day Sommers trial. Although Bert Sommers did not develop lung cancer until after 1996, his attorneys claimed he developed other smoking-related diseases, including coronary artery disease, an abdominal aortic aneurysm, peripheral vascular disease, before the cutoff date, which would render his wife a class member and allow her to recover damages.
In Thursday's closing arguments, Shook Hardy's Kenneth Reilly, representing Philip Morris, argued the weight of medical evidence established Sommers did not develop any of the claimed smoking-related diseases until after 1996. Reilly noted the same test that first diagnosed Sommers with coronary artery disease in 2004 found Sommers did not have the disease when it was performed one year earlier. Reilly also reminded jurors Sommers' treating physician testified that there was no clinically significant CAD that needed treatment as of 2003. "Seven years after the close of the [Engle class membership date] he has no coronary artery disease as tested," Reilly said. "Does that satisfy a burden of proof? No way."
However, Steffany Sommers' attorney, Richard Diaz, successfully argued medical records detailed that Sommers had the beginnings of CAD prior to the cutoff date. Diaz, reminded jurors of medical records in May 1996 describing a small area of ischemia or inadequate blood supply, a symptom of CAD. "It might have been a small area of it," Diaz said. "[It doesn't] matter. It's manifested."
Email Arlin Crisco at acrisco@cvn.com.
Related Information
Steffany Sommers is represented by Richard Diaz, of The Law Offices of Richard Diaz.
Philip Morris is represented by Kenneth Reilly, of Shook Hardy & Bacon.
Watch the trial live and on demand.
Not a subscriber?
Learn how you can watch CVN's unrivaled tobacco litigation coverage.