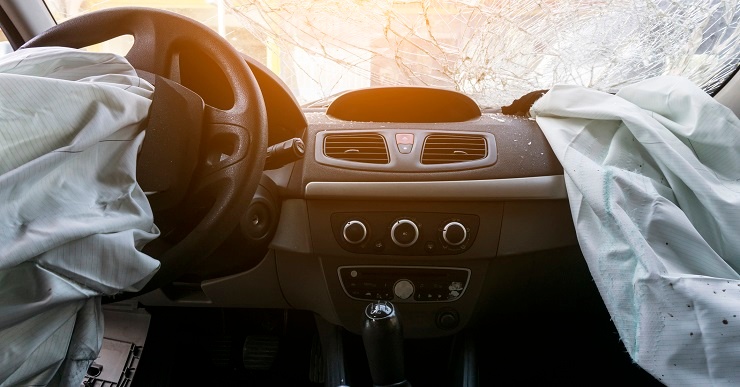 Stock image.
---
West Palm Beach, FL—Attorneys debated whether defective airbags or reckless driving led to an early morning, single-car crash that killed two people, as Ford Motor Co. faced trial over one of the deaths Tuesday. Llera v. Ford Motor Co., 2005CA001924.
"This is a case where an airbag deployed, which should not have deployed, obstructing the vision of the driver so that he couldn't properly steer the car," The Zaretsky Law Group's Esther Zaretsky said in describing for jurors the March 2003 crash that killed Anthony Llera. The airbag "violently exploded in [Llera's] face."
Llera, 20, died after the front seat airbags in the 2003 Ford Mustang he was driving deployed, he then struck a tree, and flipped the car. The crash, on Palm Beach Lakes Boulevard, in West Palm Beach, also killed one passenger and injured two others.
Llera's father, Ramon Llera, claims a defect in the Mustang's airbag system caused the crash when the airbags deployed improperly. During Tuesday's openings, Zaretsky told jurors accident reconstruction evidence and the car's own sensor reports would show the bags deployed when the car struck a curb with less force than what should have triggered their deployment.
The crash occurred after Llera and his friends had left a local bar where they had been drinking throughout the night. Although police blood-alcohol reports list Llera as legally drunk at the time of the crash, Zaretsky said the lack of evidence concerning how the samples were taken and handled rendered the results untrustworthy. "[The report] is totally unreliable because we don't know anything about the integrity of these samples and how the lab tests were done," Zaretsky said. "We don't know the quality control that was used thst day, we don't know if the equipment was good, because there [are] no records."
However, the defense argues Llera's driving, and not the airbags, caused the crash. During her opening statement, McDonald Toole & Wiggins' Courtney King told jurors that testimony would establish LLera was speeding and weaving through traffic just before the crash. "Tony was intoxicated. Tony was not driving safely. He was not watching out for the safety of others. He was reckless. He was driving too fast, and he lost control, " King said. "And, it was a combination of those things—being intoxicated, driving recklessly at a high speed, losing directional control—that caused this crash. Nothing to do with the airbag."
King added evidence would prove that the speed at which Llera struck the curb delivered sufficient energy to properly set off the bags. "This real-world crash is not anything like a perpendicular crash into a solid concrete barrier like Ford runs in [its vehicle] development stage, nor is it just an ordinary curb strike," King said. "This real-world crash involved a Mustang speeding out of control into a raised curb."
Trial in the case is expected to last into next week.
Email Arlin Crisco at acrisco@cvn.com.
Related Information:
Ramon Llera is represented by The Zaretzky Law Group's Esther Zaretsky, A. Max Zaretsky, and Daniel Franks.
Ford Motor Co. is represented by McDonald Toole & Wiggins' Francis McDonald, Sarah Long, and Courtney King, and Bowman & Brooke's Wendy Lumish and Alina Alonso Rodriguez.