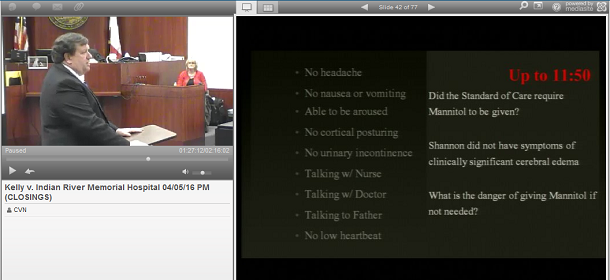 John Hall delivers his closing argument on behalf of Dr. Dudley Teel and Indian River Memorial Hospital, which prevailed in a suit over the diabetes-related death of 12-year-old Shannon Kelly.
---
Vero Beach, FL—Jurors Tuesday cleared an emergency room doctor and hospital of liability for the diabetes-related death of a 12-year-old girl. Kelly v. Indian River Memorial Hospital, 2010-CA-073141.
The jury needed less than an hour to find Dr. Dudley Teel not reckless in treating Shannon Kelly for diabetic ketoacidosis, or DKA, a diabetes complication that increases the acid level in the blood. Kelly, who suffered from cerebral edema or brain swelling as a result of the DKA, died two days after her admission to Indian River Memorial Hospital, where she was seen by Teel.

Kelly's parents contend the hospital lacked the resources to care for their daughter and Teel recklessly treated her, causing the fatal brain swelling. Their attorney, the Romano Law Group's John Romano, did not request a specific dollar amount in damages during Tuesday's closings.

Whether Teel followed proper protocol in ordering an insulin and fluid infusion for Kelly served as a central issue during the eight-day trial. The Kelly family's attorneys claim Teel administered too much insulin and other fluids too quickly and aggravated Kelly's brain swelling. During Tuesday's closings, Romano told jurors Teel offered no reason to support his order of a 10cc insulin bolus, which Romano argued was excessive. "What's wrong with this picture?" Romano asked. "A doctor not having a clinical reason for having a deathly ill child, which he [acknowledges is deathly ill] and not providing that child with the best of clinical reasoning for a particular dose."
Romano, argued that, while records conflicted as to Kelly's fluids dosage, some documents showed she received as much as a full liter of fluids. "You heard physicians testify they were too fast, there was too much," Romano said, noting expert testimony that the fluids contributed to Kelly's brain swelling.
Romano claimed Teel compounded the alleged infusion error by failing to promptly give Kelly mannitol, a medicine to treat and reverse her brain swelling. Romano reminded jurors the pediatric specialist who treated Kelly after Teel testified that Teel acted recklessly. "If the mannitol had been administered earlier, timely, adequately, properly," Romano said, "it would have eased out the fluids on [Kelly's] brain, brought the swelling down, allowed for no more swelling, and most likely she would have lived."
However, the defense countered that Teel acted appropriately in the emergency situation and argued plaintiff's case was built on "red herring" issues. During Thursday's closings, Hall Booth Smith's John Hall said medical records showed the insulin bolus Teel ordered did not lower Kelly's blood sugar enough to show signs of brain swelling. "[The bolus] met the standard of care but it caused no issues. And we've spent two days on that red herring issue. Why?" Hall asked. "Because their case is not. . . good. Dr. Teel met the standard of care in all aspects."
Hall also argued evidence showed Kelly did not show tell-tale signs of brain swelling, such as headache, vomiting, or incoherence, that would warrant giving mannitol earlier under Teel's treatment. "You look at these [signs] to see if there was significant cerebral edema, [and they were] not present," Hall said. "There is no way Dr. Teel stood there and said, 'You know what? If I don't give mannitol, it's likely [Kelly's] going to have a herniation and it's likely she's going to die, but I just don't care. I'm just going to disregard that, and I'm not going to give the mannitol.'
"I can assure you that wasn't [part of] his [thought] process," Hall said.
Florida law required Kelly's parents prove reckless conduct, as opposed to a lower standard of negligence, because Teel was an emergency room physician.
The parties' attorneys could not be reached for comment.
Email Arlin Crisco at acrisco@cvn.com.
---
Related Information
Terrence and Sandra Kelly are represented by the Romano Law Group's John Romano and Corey Friedman and Swope Rodante's Elizabeth Zwibel.
Dr. Dudley Teel and Indian River Memorial Hospital are represented by Hall Booth Smith's John Hall and Duane Cochenour and by Roy Watson.
Not a subscriber?
Learn how you can watch CVN Florida's unparalleled coverage of the state's key trials.