An $18.6M Total Damage Award Highlights Our Week in Review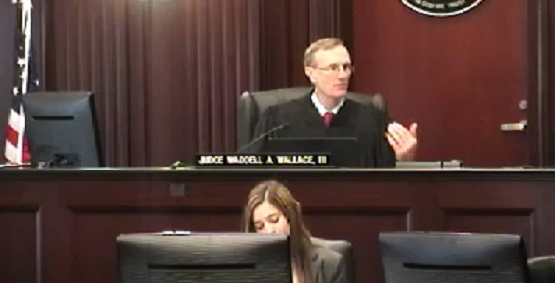 Judge Waddell Wallace addresses jurors following their award of more than $15 million in punitive damages to Andy Allen in his suit against R.J. Reynolds and Philip Morris. Click here to view the decision on punitive damages.
---
Verdict: For the plaintiff.
$18.6 million total award, including $3.094 million in compensatories and

$15.51 million in punitives.
In the only CVN Engle trial during the holiday-shortened week, Jacksonville jurors found tobacco manufacturers Philip Morris USA and R.J. Reynolds Tobacco Co. liable for a total of $15.51 million in damages for the 2007 COPD death of Patricia Dawn Allen, a decades-long smoker.
Andy Allen, the surviving husband of Patricia, who died after smoking the tobacco manufacturers' cigarettes for more than 35 years, was awarded the punitive damages in his Engle progeny suit. The decision, which included $7,755,416 in punitives against Reynolds and $7,755,415 against Philip Morris,follows a $3.094 million compensatory award on Monday, bringing the total damages in the case to more than $18.6 million.
Jurors deliberated for about 5 hours Wednesday before arriving at a decision on punitives. On Tuesday, both sides focused on the tobacco manufacturers' behavior and how it should impact the jury's decision. During closing arguments, Mark Belasic, representing R.J. Reynolds, contended that the jury's earlier finding that Patricia was 70 percent at fault for her respiratory disease warranted reduced, if any, punitive damages. "This isn't one of these cases where someone walks through the crosswalk and someone just plows them over. It's not a case where the person who was injured had nothing to do, was caught unawares, had no control," Belasic said. "You found that Mrs. Allen was many times more at fault, many times more responsible for her own injury than R.J. Reynolds."
However, Keith Mitnick, representing Andy Allen, told jurors that the defendants should be punished for their inappropriate manufacture and marketing of cigarettes, which he said continues today. Mitnick argued that the tobacco manufacturers continue to produce cigarettes with nicotine in order to fuel smokers' addiction and that they should be financially pressured to change their practices. "Get the nicotine out. Leave the lungs alone. All of these additives and engineering (are intended) to get (cigarettes) as inhalable as possible, to speed the delivery, to increase the likelihood of addiction," Mitnick said. "They need to be encouraged to get the nicotine out. To give options to children that are truly choice cigarettes, and leave the lungs alone."
The jury's punitive award was less than the $25 million Mitnick requested during closings, and which he contended was sufficient to punish and deter inappropriate conduct without imposing too harsh a penalty. "I'm taking the chance that you will accept that (the $25 million figure is) not meant to offend or swing for the fence, but they're trying to do the maximum we can do under the law without going too far."
Allen is a retrial of a 2011 proceeding in which a $40 million jury verdict, including $34 million in punitives, was reduced to $16.8 million. In 2013, The Florida First District Court of Appeal reversed and remanded the case after finding that the trial court erred in granting a directed verdict on the issues of addiction and causation.
---
Our weekly review comes from our unequaled gavel-to-gavel coverage of Florida's Engle progeny cases.
Not a subscriber?
Sign up for a seven-day free trial of our expansive tobacco litigation video library.