Stock image.
---
CVN cameras have covered more than 200 of Florida's Engle progeny proceedings since the litigation, spun from a massive, decertified class action against U.S. tobacco companies, began more than a decade ago. Our Engle cards are our way of honoring the attorneys who've left the biggest impact in the litigation. This week's card features Gary Paige, whose blockbuster record since the litigation's earliest days have made him one of Engle's premier trial lawyers.
Engle Trading Card Series 4, Number 7
Gary Paige, Gordon & Partners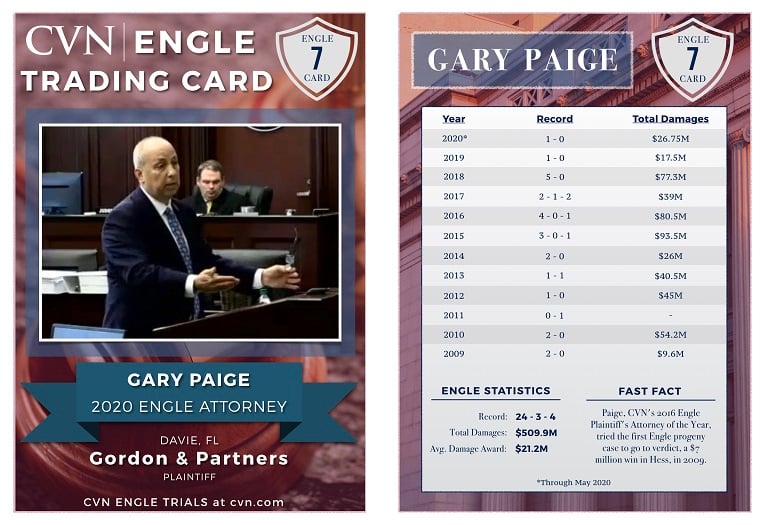 ---
With 24 wins out of his eye-popping 31 trials in front of CVN cameras, Paige is one of the most accomplished attorneys in the history of Engle litigation. In fact, Paige's record forced us to re-do our card format. There simply wasn't room on the card to list each trial individually.
Paige's two dozen wins stretch as far back as the first Engle progeny trial taken to verdict — Hess in 2009 — and feature more than a dozen $20-million-plus awards. That stellar record has led to more than $500 million in total verdicts across the years for Paige, who was named CVN's Engle Plaintiff's Attorney of 2016.
Email Arlin Crisco at acrisco@cvn.com.
Related Information
Watch Gary Paige's trials on CVN.
Not a subscriber?
Learn how you can access an unrivaled tobacco trial video library, along with the best trials in other practices areas, coast-to-coast.