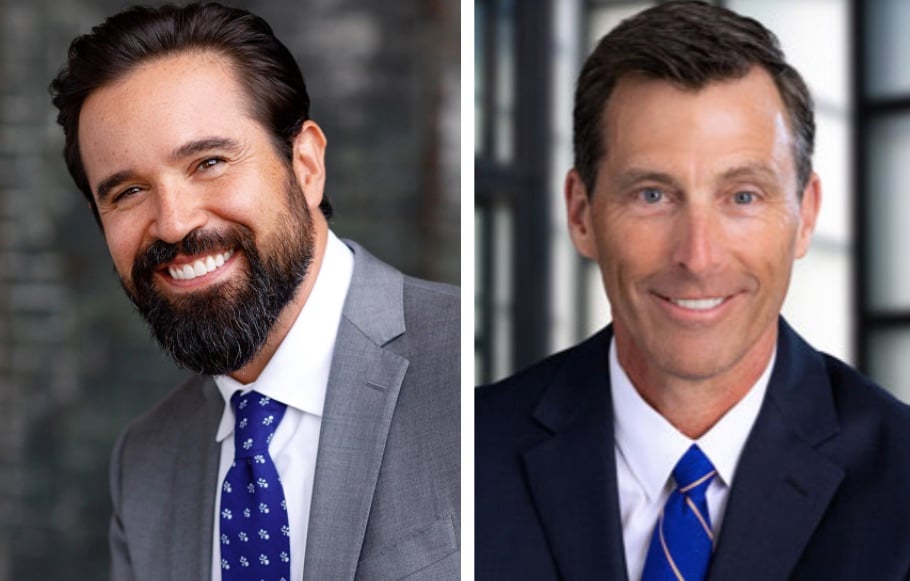 Plaintiff attorney Bob Simon of the Simon Law Group (left), and defense attorney Dana Fox of Lewis Brisbois (right)
San Bernardino, CA - A trial featuring two of California's most respected civil trial attorneys begins this week in California state court stemming from an accident involving a big rig truck and motorcycle that left the motorcyclist with serious injuries, and the proceedings will be webcast gavel-to-gavel by Courtroom View Network.
Plaintiff Gregory O'Connell is represented by Robert "Bob" Simon, Jenny Anglin and Greg Jackson of the Simon Law Group LLP. Simon, one of the most sought after personal injury attorneys on the West Coast, received the prestigious "Rising Star Award" in 2015 from the Consumer Attorneys Association of Los Angeles, along with being recognized as the 2015 Trial Lawyer of the Year in San Diego, the 2014 Los Angeles Top Trial Lawyer under 40, and the 2014 Orange County Trial Lawyer of the Year
Trucking company C.R. England Inc. and driver Kendrick Course are represented by Dana Fox, Laurie Stayton and Allyson Welden of Lewis Brisbois Bisgaard & Smith LLP. Lewis Brisbois has one of the most active defense civil trial practices in California, and Fox is widely-regarded as one of the firm's top "go-to" litigators for defendants facing high-exposure cases. Fox serves as chair of the firm's general liability practice and was named one of the top 100 attorneys in California by The Los Angeles Daily Journal in 2014, 2020, and 2021.
While CVN covered trials involving Fox on two previous occasions, this trial marks the first time CVN will cover Simon and his team in trial.
The accident occurred on April 12, 2018 in Ontario, California. The plaintiffs allege the truck made a right turn from the left lane of traffic and boxed in the plaintiff's motorcycle. The resulting collision caused serious injuries including broken leg bones that required multiple surgeries, cracked ribs and bruised internal organs.
The defense conceded liability in the case, but they dispute the severity of O'Connell's claimed injuries and the amount of damages he is owed, leaving the issue for a San Bernardino County jury to decide.
Opening statements are expected Thursday afternoon before Judge Brian McCarville,
CVN's live and on-demand gavel-to-gavel, commercial-free coverage will commence with opening and statements and continue through the duration of the trial.
The case is captioned Gregory Kyle O'Connell v. Kendrick Dwight Course, C.R. England Inc., case number CIVDS1909564, in the Superior Court of the State of California in San Bernardino County.
E-mail David Siegel at dsiegel@cvn.com