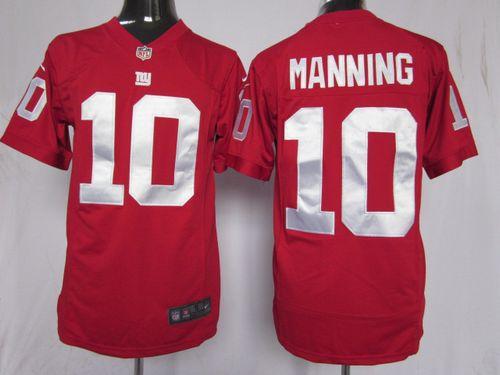 Stock image of an Eli Manning football jersey
Hackensack - A lawsuit alleging New York Giants quarterback Eli Manning and the team's equipment staff defrauded a memorabilia dealer by selling fake "game-used" helmets and other equipment is heading to trial in a New Jersey state court, and the full proceedings will be webcast gavel-to-gavel by Courtroom View Network.
Jury selection begins on May 14 in Bergen County Superior Court in the long-running consumer fraud lawsuit filed by collector Eric Inselberg. Inselberg accuses Manning and the Giants of falsely claiming that helmets, jerseys and other equipment had actually been used during games, when they were actually just off-the-shelf items.
Inselberg filed the lawsuit in 2014 after he and other memorabilia dealers were accused by prosecutors of selling counterfeit jerseys and raided by the FBI. The case was later dropped, but Inselberg claims the events had a detrimental impact on his business.
The Giants deny the allegations, referring to them as "inflammatory and baseless" while accusing Inselberg's legal team of trying to improperly create a media frenzy about the iconic team and their star quarterback.
The trial will take place before Superior Court Judge Charles E. Powers, Jr. CVN's gavel-to-gavel coverage of the trial will begin at the start of opening statements.
Additional defendants include memorabilia company Steiner Sports, Giants equipment manager Joe Skiba, Giants co-owner John Mara and others.
During the discovery phase of the trial, Inselberg's legal team uncovered an email from Manning to Skiba asking for assistance in obtaining two helmets that could pass as "game-used." Manning also allegedly signed letters to collectors attesting to the fact that helmets had been used in games.
Inselberg accused the Giants in court filings of going to "great lengths" to make a jersey appear to have been worn by retired player Michael Strahan, even adding Gatorade stains to the fabric.
Inselberg is expected to rely on expert witness testimony from John Robinson of Resolution Photo-Matching, who will state that photos of multiple helmets characterized as game-used Eli Manning pieces don't match the helmets actually worn in games.
The Giants will rely on expert testimony from Troy Kinunen, a memorabilia authentication expert who claims that relying solely on photo-matching is not a reliable way of determining a sports collectible's authenticity.
Inselberg is represented by Brian C. Brook of Clinton Brook & Peed.
Manning and the Giants are represented by a team of attorneys from the firm McCarter & English LLP, including Mary Gabriel, Richard Hernandez and Gita Rothschild.
The case is captioned Inselberg v. New York Football Giants, Inc., docket number L00097514.
Email David Siegel at dsiegel@cvn.com