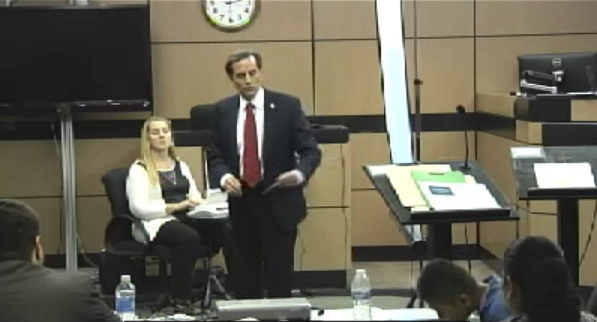 Hyram Montero delivers closing arguments in Gill v. Ali. Jurors awarded $375,000 to the family of Rogelio Zepeda Hernandez, the pedestrian who died in a collision with a car driven by Christopher Ali, but found Zepeda Hernandez was 70% at fault for the accident.
West Palm Beach, FL—Jurors Wednesday awarded $375,000 to the family of a pedestrian struck and killed outside a crosswalk by a car whose deaf driver was allegedly texting before the accident. Christine Gill v. Christopher Ali, 2013 CA 011103.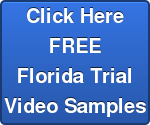 Jurors awarded $250,000 to Elizabeth Rivera Hernandez and $125,000 to Jesus Zepeda Rivera, the wife and son of Rogelio Zepeda Hernandez, who was killed in 2013 when a car driven by Christopher Ali struck Zepeda Hernandez as he crossed West Palm Beach's Lake Worth Road. The jury took less than 90 minutes to reach its verdict, awarding a fraction of the more than $2.5 million the plaintiff's attorneys sought.
Zepeda Hernandez, 39 at the time of his death, was born in Mexico but lived in the U.S. from 1990 onward, periodically visiting his family, who live in Mexico. The suit was filed by attorney Christine Gill, as representative of Zepeda Hernandez's estate.
The seven-day trial focused largely on whether Ali, who is deaf, was texting while driving at the time of the collision as well as the extent of Zepeda Hernandez's role in the accident by crossing outside a designated crosswalk. In closing arguments Wednesday, Gill's attorney, Montero Law's Hyram Montero, reminded jurors of phone records that showed Ali sent and received texts minutes before the accident.
"He was texting when he was driving. There's no question about this, ladies and gentlemen. The evidence speaks for itself." Montero said. "And that is why… he has no idea what was in front of him."
However, Sanabria, Llorente & Associates' Carlos Llorente, representing Christopher Ali, told jurors Wednesday there was no proof Ali was actually texting either while driving or at the time of the accident. Llorente reminded jurors that Ali acknowledged he texted while stopped at intersections, but claimed he did not text while he drove. "The text, if you look at the times (in the phone records) occurred over ¾ of a mile (away from the collision), when he was at a stop light."
Instead, Llorente argued Zepeda Hernandez caused the accident by crossing outside the crosswalk and that the accident occurred too quickly for Ali to reasonably avoid it. Highlighting traffic statutes applicable to pedestrians crossing a roadway, Llorente said "[Zepeda Hernandez] violated every single one of these. All of them, one through 12, he violated them."
But Montero argued that Zepeda Hernandez crossed the street 70-80 feet away from the designated crosswalk because the nearest traffic light was red and no oncoming traffic was approaching. Montero said "[Ali] wasn't paying attention to the light. He wasn't paying attention to anything because he was connected to his cell phone, but disconnected with what was ahead of him."
The jury ultimately apportioned 70% of the fault to Zepeda Hernandez and 30% to Ali, likely reducing recovery in the case to $112,500.
Update 7/10, 5:06 p.m.: After the verdict, Montero said he believed Zepeda Hernandez's status as an undocumented worker in the U.S., combined with Donald Trump's recent controversial remarks regarding Mexican immigrants may have affected the jury's decision.
Last month, Trump, the real estate mogul and reality television celebrity who recently declared his presidential candidacy, made headlines when he was widely quoted as saying immigration from Mexico brought "drugs," "crime," and "rapists" into the United States. While the remarks were criticized by civil rights groups and others, Montero said the widely publicized comments highlighted underlying negative attitudes toward immigration and may have biased jurors against Zepeda Hernandez and his family. "It was a very difficult case to try in light of the issues that arose nationwide," Montero said.

Llorente declined to comment on the case.
---
Related information
Hyram Montero, of Montero Law, represented Christine Gill. Carlos Llorente, of Sanabria, Llorente & Associates, represented Christoper Ali.
Watch gavel-to-gavel coverage of Gill v. Ali on demand.
Not a subscriber?
Learn how you can watch CVN Florida's unparalleled coverage of the state's key trials.