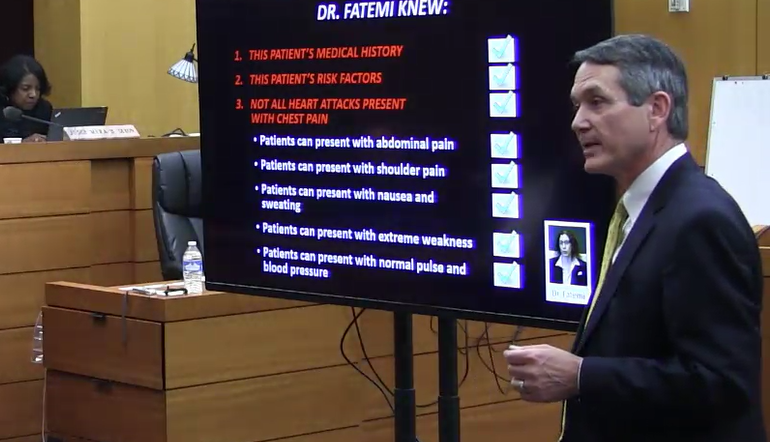 Wayne Grant delivers his opening statement at trial against Dr. Arezou Fatemi, accused of negligence that led to the death of Tom Cox.
---
Atlanta—Attorneys Tuesday debated whether an Atlanta-area doctor was responsible for the heart attack-related death of a longtime Turner Broadcasting sports director, as trial opened against the physician. Cox v. Fatemi, et al., 15EV001192.
Tom Cox, 61, a director of remote operations for Turner Sports, died in August 2010 from complications related to a heart attack he suffered. Days earlier, Cox had seen Dr. Arezou Fatemi, complaining of weakness, nausea, sweating, and pain. Fatemi, an internal medicine specialist with Comprehensive Internal Medicine in Alpharetta, Georgia, diagnosed him with a virus.

Cox's widow, Gina, contends Fatemi misdiagnosed her husband and claims his symptoms show he was suffering from acute coronary syndrome, which ultimately killed him. On Tuesday, Gina Cox's attorney, the Grant Law Office's Wayne Grant, told jurors Fatemi should have ordered heart tests on Cox or sent him to the emergency room, given his symptoms and his risk of heart problems, including his age, high blood pressure, and cholesterol.
"Seven signs of acute coronary syndrome, yet not one cardiac test was done," Grant told jurors Tuesday. "If things were done as they standardly would have been done had Tom been sent to the emergency room, Tom survives."
Acute coronary syndrome, or ACS, is an umbrella term for a variety of critical heart problems, including heart attack. Grant said Fatemi erred in ruling out heart problems because Cox told her he did not have the classic symptoms of chest pain and shortness of breath, despite the fact that ACS often doesn't come with these warning signs. "When she found there was no chest pain, no shortness of breath, she ignored these six other signs of acute coronary syndrome in a context patient," Grant said. "You can't do that."
However, the defense contends Fatemi considered, but reasonably concluded Cox was not suffering from heart problems when he saw her. During Tuesday's openings, Huff Powell & Bailey's Scott Bailey told jurors that Fatemi's diagnosis was based in part on Cox's symptoms, which are common in viral illnesses, and EKG results from a week earlier that showed normal heart function.
"Knowing that a 61-year-old man with hypertension and hyperlipidemia, if he comes in complaining of just about anything, cardiac [problems are] going to be on her list," Bailey said, adding that Fatemi ordered bloodwork on Cox and followed up with him a day after his visit. "That's why it's so important to know that she asked those questions [about symptoms of heart problems]; she was thinking about it, and in her reasonableness, she decided that it was not likely."
In arguing Cox did not have ACS when he saw Fatemi, Bailey contended it would be highly unusual for someone of Cox's age and risk factors to suffer from emergency heart problems without breathing difficulties, chest or shoulder pain. Bailey noted Cox ultimately complained of shortness of breath and pain between the shoulder blades, two typical ACS symptoms, when he suffered his heart attack days later. "We know how he presented when he was having a heart attack, and it was much different than he was on August 5 [during the visit with Fatemi], when we submit that he simply wasn't well."
Trial in the case is expected to last into next week.
Email Arlin Crisco at acrisco@cvn.com.
Related Information
Gina Cox is represented by the Grant Law Office's Wayne Grant and Kimberly Grant, and Wayne D. Toth of The Toth Law Firm, LLC.
Dr. Arezou Fatemi and Comprehensive Internal Medicine are represented by Huff Powell Bailey's M. Scott Bailey, R. Page Powell Jr., and David D. Mackenzie.
CVN is recording the trial and will provide gavel-to-gavel video, on demand, as soon as possible after the verdict.
Not a subscriber?
Learn how you can watch blockbuster trials, in Georgia and across the country.