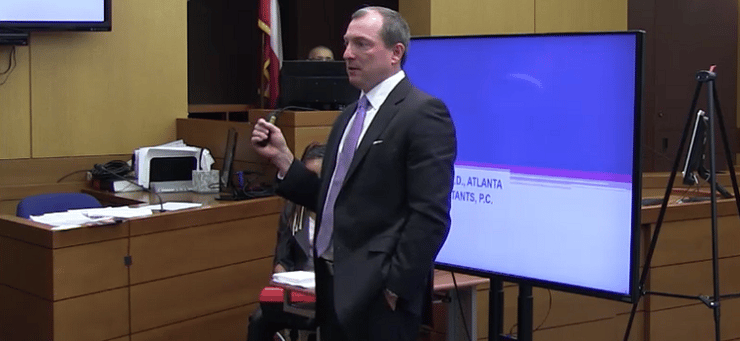 Scott Bailey delivers his closing argument at trial against Drs. Brian Hill and William Bottoms. Jurors cleared the two doctors of liability for the cancer death of one of their former patients.
---
Atlanta—A pair of Georgia doctors prevailed last Friday in a medical malpractice trial over the kidney cancer death of one of their former patients. Moradov v. Hill, et al., 14EV000806H.
Fulton County State Court jurors deliberated for about four hours before finding Drs. Brian Hill and William Bottoms were not at fault for the cancer death of Shlomo Moradov in 2015.
Moradov, 51 when he died, had seen Hill, a urologist with Urology Specialists of Atlanta, in 2009 for kidney stones. Hill, along with Bottoms, a radiologist with Atlanta Radiology Consultants, P.C., had reviewed non-contrast CT scans performed on Moradov at the time. Although those scans revealed cyst-like structures in Moradov's kidneys, neither doctor ordered follow-up testing.
Moradov's mother and the administrator of his estate claim one of those structures turned into the fatal cancer that spread throughout Moradov's body and that the doctors breached their standard of care in not ordering further imaging that would have discovered the disease in time to save him.
During Friday's closings, the plaintiffs' attorney, Henry Spiegel Milling's Philip Henry, suggested a range of damages that topped out in excess of $8 million total.
After the verdict, Henry told CVN he was both surprised and disappointed in the case's outcome. At least one juror, he said, explained after the verdict that the group was deadlocked on the issue of negligence, but ultimately determined there was insufficient proof on causation. "That was unexpected because [Moradov's] treating physician [Dr. Raymond Pak] testified that there was 'no doubt in his mind' that the area identified on the May 18, 2009 CT scan was the cancer he removed over four years later," Henry said. "I think this demonstrates how difficult these cases are to win."
Henry also praised the defense. "Both of the defendants were well trained, competent, and articulate in explaining their actions. They were ably represented by the fine lawyers at Huff Powell & Bailey." Henry said. "I congratulate the doctors and their lawyers on their win. The case was well-tried with a fair judge."
During Friday's closing arguments, Henry reminded jurors Pak believed the cancer not only originated from the tumor but Moradov could have been spared if it had been caught earlier. "Dr. Pak… said [his] best medical opinion is it was a Stage I or Stage II [cancer], which has upwards of an 80-90% probability of cure with surgery alone," Henry said. "It's a really very curable cancer when it's found incidentally."
However, in his closing argument, Huff Powell & Bailey's Scott Bailey noted that both the defendants and the defense's radiology expert, Dr. Thomas Oliver, said it was impossible to definitively link one of the cyst-like structures to Moradov's cancer. "Correlation does not equal causation. The fact that Mr. Moradov had these cysts does not prove his cancer came from them," Bailey said. "Just because two things happen together near in time does not mean one caused the other."
Hill's attorney, Huff Powell & Bailey's Daniel Huff, reminded jurors of Hill's testimony in comparing both the 2009 imaging and the cancer imaging four years later. "You can't say by looking at [the image of the cancer] and looking back at the 2009 image, 'Well, this came from that area.' We have four years between 2009 and 2013, and the cancer could have come from any part of the kidney," Huff said. "We don't know where it came from. No one does."
After the verdict, Huff echoed Henry's praise of the legal teams. "I learned a lot watching [Huff Powell & Bailey attorneys] Michael Frankson and Scott Bailey try this case against Phil Henry. All three of these skilled lawyers did an exceptional job," Huff said.
"The two defendants in this case, Dr. Hill and Dr. Bottoms are great physicians and provided very good care to the decedent Mr. Moradov," Huff added.
CVN recorded the trial and will provide gavel-to-gavel video as soon as possible.
Email Arlin Crisco at acrisco@cvn.com.
Related Information
Philip Henry, of Henry Spiegel Milling, represents plaintiffs Tziporah Moradov and Ezra Cohen.
Scott Bailey, Erica S. Jansen, and Bailey Sabulis, of Huff Powell & Bailey, represent Dr. William Bottoms and Atlanta Radiology Consultants, P.C.
Huff Powell & Bailey's Daniel Huff and Michael Frankson represent Dr. Brian Hill and Urology Specialists of Atlanta, LLC.