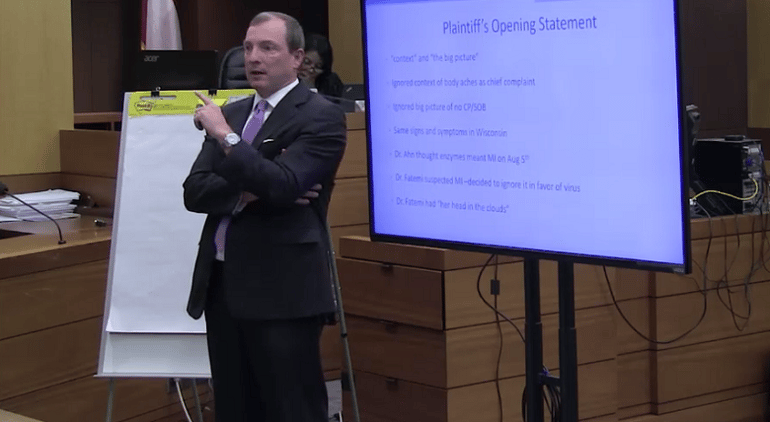 Scott Bailey delivers his closing argument at trial of Dr. Arezou Fatemi. Jurors cleared Fatemi of liability for the death of Tom Cox, who suffered a heart attack days after visiting the doctor.
---
Atlanta—Jurors Wednesday cleared a physician of responsibility for the heart attack-related death of a long-time Turner Broadcasting sports director. Cox v. Fatemi, et al., 15EV001192.
Tom Cox, 61, a director of remote operations for Turner Sports, died in August 2010 after suffering a heart attack while in Wisconsin to cover a golf tournament for the network. Cox's widow, Gina Cox, claims Dr. Arezou Fatemi, working for Comprehensive Internal Medicine of Alpharetta, was negligent in diagnosing Cox with a virus and failing to order heart tests when Cox saw her days before the heart attack, complaining of weakness, nausea, sweating, and pain.
Gina Cox's attorney, the Grant Law Office's Wayne Grant, sought up to $2.15 million in economic damages alone during Wednesday's closing arguments. He did not specify a figure in non-economic damages.
The Fulton County State Court jury hearing the case took a little more than two hours to conclude Fatemi was not responsible for Cox's death.
The eight-day trial focused largely on whether Fatemi took appropriate steps in treating Cox on August 5, 2010, considering his symptoms, as well as his risk factors for heart problems, such as his age and history of high blood pressure and high cholesterol.
Plaintiff's attorneys argued Fatemi misdiagnosed Cox, who likely suffered from acute coronary syndrome, or ACS, an umbrella term that includes a variety of critical cardiac problems.
During Wednesday's closing arguments, Cynthia Cox's attorney, The Toth Law Firm's Wayne Toth, reminded jurors of expert testimony concluding Cox's cardiac enzyme levels a day after his heart attack showed he'd had a "cardiac event" 4-5 days earlier. "Four to five days before August 9 [the date of his heart attack], he's at Comprehensive Internal Medicine seeking treatment," Toth said. "The enzymes show an old event. The old event being ACS on August 5."
Toth argued that the symptoms Cox complained of when he saw Fatemi are commonly seen in ACS cases, and plaintiffs' experts agreed Fatemi should have sent Cox to the emergency room or performed an EKG to evaluate his heart condition. Toth said evidence established early heart tests could have led to life-saving treatment. "This was all predictable and preventable," Toth said.
However, the defense argued Cox's symptoms on August 5 were consistent with a virus, and Fatemi properly ruled out potential heart problems.
During his closing argument Wednesday, Huff Powell & Bailey's Scott Bailey reminded jurors Fatemi questioned Cox about his symptoms, ordered blood work, and followed up with him a day after his office visit. Bailey said Fatemi's diagnosis was based in part on the fact that Cox didn't suffer from the classic ACS symptoms of chest pain or shortness of breath, but did complain of consistent body aches—which do not signal ACS—when Fatemi treated him. "You cannot get away from that," Bailey said. "Those two things point directly away from acute coronary syndrome."
Bailey added that heart tissue samples showed no signs that Cox had ACS when he saw Fatemi. "That is objective pathology evidence that has not been disputed by any other expert in this case," Bailey said.
However, regardless of whether Cox actually suffered from ACS when he saw Fatemi, Bailey argued the central issue remained whether Fatemi acted reasonably in reaching her diagnosis. "She didn't have to be right," Bailey said. "She just has to be reasonable."
After the verdict, Grant praised the defense team's performance and told CVN that, while jurors did not speak to attorneys post-trial, he believed the four-day span between Cox's visit to Fatemi and his heart attack likely played a central role in the jury's decision.
"To non-doctors, I think this created a time gap that pointed to the possibility of virus," Grant said, adding he believed Fatemi's testimony helped persuade the jurors. "Dr. Fatemi made a good impression on the stand, and I think the jury gave her the benefit of the doubt."
Following trial, Bailey also told CVN he believed Fatemi's testimony likely keyed the jury's verdict. "I really think that was probably the major factor in swaying the jurors to believe that this was good medical care," Bailey said.
Bailey added that, in the years of litigation before trial, the plaintiff's legal team pressed a theory that Cox was suffering an active heart attack at the time he saw Fatemi, but at trial itself, they focused on the contention that Cox suffered from ACS when Fatemi examined him. "They modified their strategy to a greater extent than even I anticipated, " Bailey said.
He said he believed the theory, in conjunction with the time gap between the exam and subsequent heart attack, was the primary obstacle to persuading the jurors Fatemi acted appropriately. "That was probably the biggest hurdle in the case for us, just getting the jury over the fact that these two things happened within days of each other, and... the natural inclination to think that something was missed."
"It was a really hard-fought case on both sides," Bailey said.
Email Arlin Crisco at acrisco@cvn.com.
Related Information
Gina Cox is represented by the Grant Law Office's Wayne Grant and Kimberly Grant, and Wayne D. Toth of The Toth Law Firm, LLC.
Dr. Arezou Fatemi and Comprehensive Internal Medicine are represented by Huff Powell Bailey's M. Scott Bailey, R. Page Powell Jr., and David D. Mackenzie.
CVN recorded the trial and will provide gavel-to-gavel video, on demand, as soon as possible after the verdict.
Not a subscriber?
Learn how you can watch blockbuster trials, in Georgia and across the country.