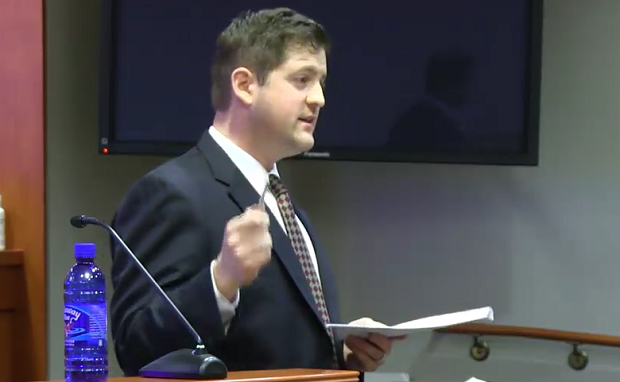 Adam Smith delivers his closing argument on behalf of Keely Youngblood, accused of responsibility for neck and back injuries Michael Blatnik claims he suffered when Youngblood rear-ended him. Jurors cleared Youngblood of responsibility for the injuries.
---
Decatur, GA—Jurors Wednesday rejected a Georgia man's claim that he suffered long-term neck and back injuries from a rear-end crash with a distracted driver. Blatnik v. Youngblood, 15A56329.
The DeKalb County State Court jury needed a little more than an hour to find the injuries claimed by Michael Blatnik were not caused by Keely Youngblood when she hit Blatnik's car as he sat at a stop sign in July 2013.
Blatnik contends the crash left him with herniated and bulging discs in his neck and back. His attorney, the Stone Law Group's Michael Regas II, requested more than $180,000, including $120,000 for pain and suffering, during Wednesday's closing arguments.

Blatnik, who had been part of a traveling volleyball team before the accident, told jurors Tuesday he hasn't played volleyball since the crash, and physical therapy was of limited help. "There were still too many times when I couldn't sleep at night. I was in too much pain," Blatnik said. "And the fact that I couldn't go back to my normal lifestyle of playing sports, working out the way I did, when that was my outlet from work? It was very frustrating."
Youngblood admitted fault for the crash, but not for Blatnik's injuries. She said the accident occurred when she was stopped behind Blatnik's car but became distracted by a sign that said "TacoCat spelled backwards is TacoCat," and took her foot off the brake momentarily. "It was just like an 'Oops,'" Youngblood told jurors Wednesday.
The two-day trial turned on the link, if any between the crash and Blatnik's neck and back problems.
The defense argued there was insufficient evidence to show the crash injured Blatnik's neck and back. During Wednesday's closings, Waldon Adelman Castilla Hiestand & Prout's Adam Smith highlighted Blatnik's chiropractic treatment before the crash. Smith said the only medical documentation Blatnik offered to link his injuries to the crash was a brief note from cervical and lumbar specialist Dr. Jeffrey Grossman. Smith said that note included the wrong date of the accident, a date apparently given to him by Blatnik. "Dr. Grossman's narrative is based entirely on what Mr. Blatnik told him," Smith said. "Does it say anything in there about how Dr. Grossman reviewed prior chiropractic records, talked to Mr. Blatnik about prior pain or problems in his neck or back. It doesn't say it."
However, Regas argued Blatnik's pre-accident injuries were isolated, and he noted Grossman's conclusion came after tests, including an MRI, on Blatnik. Regas noted the defense offered nothing to rebut Grossman's conclusion linking the accident to the injuries. He argued Grossman's opinion, combined with testimony from Blatnik's friends regarding his health after the accident, proved the crash damaged Blatnik's back. "Dr. Grossman carries the day," Regas said. "He provides everything you need to find for the plaintiff."
"This was a hard fought trial and opposing counsel did an excellent job presenting the plaintiff's case," Smith told CVN after the verdict. "It was a pleasure to work with lead counsel Mike Regas and his co-counsel Ryan Barnes throughout the trial."
Regas could not immediately be reached for comment following the verdict.
CVN recorded the trial and will publish gavel-to-gavel video as soon as possible after the verdict.
Email Arlin Crisco at acrisco@cvn.com.
Related information
Michael Blatnik is represented by the Stone Law Group's Michael Regas II.
Keely Youngblood is represented by Waldon Adelman Castilla Hiestand & Prout's Russell Waldon and Adam Smith.
Learn how you can watch an unrivaled library of trial footage, from car crash cases to the nation's biggest products liability lawsuits.