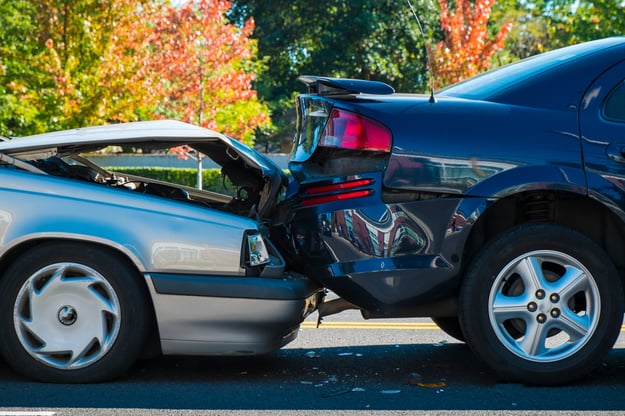 Stock photo.
---
Decatur, GA—Attorneys debated whether decades of job-related orthopedic stress or a rear-end collision caused a Snellville exterminator's shoulder injury, as trial began Tuesday against the woman who crashed into him. Rush v. Mealor, 14A52556.
Ron Rush claims he suffered a right shoulder injury in an August 2012 rear-end collision with Amey Mealor. Rush, 64, who owns a pest control business, ultimately required surgery for the injury.

Mealor doesn not deny she caused the crash. However, Lynn Betz, arguing on behalf of Mealor, told jurors Tuesday Rush's shoulder injury stemmed from his decades of work in the extermination business rather than the collision. "Day in and day out, week after week, month after month, year after year, [he] had to do overhead work with [his] right arm," Betz said. "Repetitive motion, day after day, year after year, decade after decade, and ladies and gentlemen, it took its toll. It had nothing to do with Amy Mealor."
Betz told jurors Rush had a history of shoulder problems before the accident, and she said he lied several times in denying those injuries. "He lied under oath to me at his [pre-trial] deposition, looked me right in the eye and lied about it," she said. "He is most likely going to lie to you under oath."
But Rush's attorney, Stewart Seay & Felton's Quinton Seay, told jurors Rush had not had shoulder problems in the years before the accident and simply forgot when questioned about earlier shoulder issues. "These complaints of shoulder pain going back to 2010 just weren't on his mind and he didn't remember them when he was being questioned about them," Seay said. "There was no plan on the part of Mr. Rush to deceive anybody or pull the wool over anybody's eyes. It was just an oversight on his part."
Seay told jurors the case came down to a key question: "Will a 60-year-old man who has worked hard his entire life, and doesn't have a perfect body or perfect health, be denied compensation for medical bills and pain and suffering, if he's injured in a car wreck?"
The case is expected to go to the jury by the end of the week.
CVN is recording the tria, will provide updates via the news page, and video on demand as soon as possible after the verdict.
Email Arlin Crisco @acrisco@cvn.com.
Related information
Quinton Seay, of Stewart Seay & Felton, represents the plaintiff.
Lynn Betz represents the defense.
CVN will provide video on demand as soon as possible after the verdict.
Not a subscriber?
Learn how you can see the best attorneys in action, in Georgia and across the country.