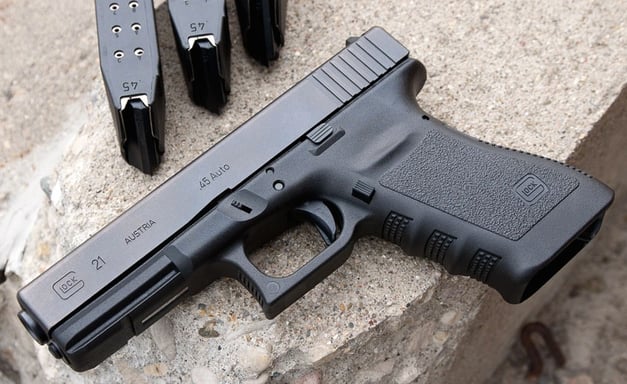 Stock image of Glock 21 pistol
Update 5/11/16: Parties settled the case Wednesday before jury selection. Settlement terms were not immediately available.
Los Angeles — A product liability lawsuit filed against gun manufacturer Glock Inc. goes to trial on Tuesday in California state court in a case filed by a former Los Angeles policeman who claims inadequate safeguards on his service pistol allowed his 3-year-old son to shoot him in the back, rendering him a quadriplegic.
Enrique Chavez sued Glock in 2008 after his son found his loaded Glock 21 pistol under the front seat of his pickup truck and accidentally fired the weapon while Chavez was driving. His lawsuit argues the gun is defective because the trigger can be pulled too easily, and it lacks a safety on the grip that a shooter must deactivate before discharging the weapon.
"Prior to the purchase of the subject Glock 21 defendants were on notice that a trigger pull of 5.5 lbs (combined with a "safety" that does not prevent inadvertent, unintended or accidental discharge resulting from trigger depression) results in a significant increase in the frequency of accidental discharges often with catastrophic results," Chavez's complaint states.
Glock has argued in court filings that the pistol is not defectively designed, and that Chavez is responsible for the accident due to failing to properly secure his weapon.
The trial will be webcast and recorded gavel-to-gavel by Courtroom View Network.
A trial court judge initially granted summary judgment in favor of Glock, however in 2012 a California appeals court reversed that ruling and revived the case, finding that Chavez's alleged failure to secure his weapon was not an adequate basis to dispose of his product liability claim. The appeals court also affirmed a summary judgment ruling in favor of the Los Angeles Police Revolver and Athletic Club, where Chavez obtained the gun.
"While a jury may well find Chavez's conduct substantially contributed to the accident ... we cannot say that conduct, even if sufficient to establish criminal storage of a firearm, absolves Glock and Revolver Club, as a matter of law, from all liability for a design defect that may otherwise be shown to exist in the Glock 21," the appeals panel stated. "Chavez's responsibility for his own injuries is quintessentially a question for the jury."
The trial before Judge Stephen Czuleger is expected to take approximately 20 days to complete.
An attorney for Chavez and a representative for Glock did not respond to requests from CVN for comment.
Chavez is represented by Justin Ehrlich of Herzog Yuhas Ehrlich & Ardell.
Glock is represented by Nicholas Janizeh, Bart Kessel and Su-Lyn Combs of Tucker Ellis LLP and by Christopher Renzulli and John Renzulli of the Renzulli Law Firm.
The case is Enrique Herrera Chavez, et al. v. Glock Inc., et al., case number BC394135 in the Superior Court of California for Los Angeles County.
E-mail David Siegel at dsiegel@cvn.com.