Many of Georgia's best attorneys faced off in trials around the state last year, with CVN covering the events gavel-to-gavel. And our Georgia Plaintiff's Attorney of 2019 earned the title with two major verdicts in front of our cameras.
CVN Georgia's Plaintiff's Attorney of 2019
Law & Moran's Pete Law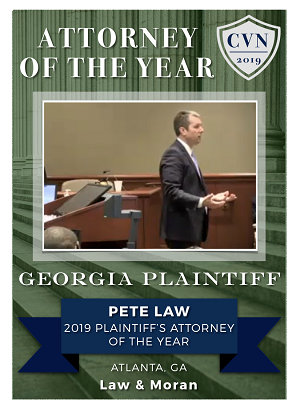 The Trials: Monroe v. Lane's Equipment Rental, et al. and Bernecker, et al. v. Stalwart Films LLC, et al.
The Verdicts: In Monroe, Pete Law secured a blockbuster $21.6 million verdict for the crash that cost a Georgia man his leg. Law wrapped the year by helping spearhead an $8.6 million award in Bernecker, a trial over the death of a stuntman on the set of the hit TV series The Walking Dead.
The Details: May 2019's Monroe trial stemmed from a crash three years earlier that forced Donald Monroe to undergo a below-the knee amputation. Monroe contended a tractor-trailer driven by a Lane's Equipment Rental driver pulled unsafely into traffic, forcing an oncoming pickup to swerve off the road and hit Monroe. The four-day trial, in Dalton, Georgia, turned on whether the trucking company or the pickup driver bore the lion's share of fault.
"[T]here's not much to this case. One man pulled out in front of another man, not giving enough time. And one man left the road," Law said, hammering defense evidence he said was meant to confuse the jury.
And in outlining the injuries he said were worth an 8-figure award, Law told jurors, "There's no sign in this county, where you come in and it says 'Life is cheap here. Pain and suffering is worth less in Dalton… than it is down there in Atlanta."
Jurors needed just two hours to find the trucking company 99.9 percent responsible and award $21.6 million to Monroe and his wife.
In December, Law's courtroom work grabbed headlines across the country at trial over the 2017 death of stuntman John Bernecker while filming a scene for The Walking Dead. The case centered on whether the lack of safety equipment and personnel or Bernecker's own actions caused him to miss a safety pad in a 20-plus-foot fall.
"It's not up to John to put pads out, nets out, or hire spotters. That's a duty exclusively of [the defendants]," Law said in closings. "John shouldn't have to guess where he's going to hit."
Jurors ultimately handed down an $8.6 million verdict, apportioning 6% of fault to Bernecker, with the remainder to production studio Stalwart Films, LLC and various personnel.
The wins in Monroe and Bernecker were part of a monumental 2019 for Law, who also notched eight-figure verdicts in two other cases. Law's exceptional courtroom work distinguished him as CVN Georgia's Plaintiff's Attorney of 2019.
Email Arlin Crisco at acrisco@cvn.com.
Related Information
Learn how you can access an unrivaled library of trial coverage featuring the best attorneys across the country.