CVN cameras covered an impressive slate of Georgia's finest lawyers last year. And CVN Georgia's 2019 defense attorney honoree earned the accolade by clearing his physician clients in a pair of high-profile med mal trials.
CVN Georgia's Defense Attorney of 2019
The Weathington Firm's Paul Weathington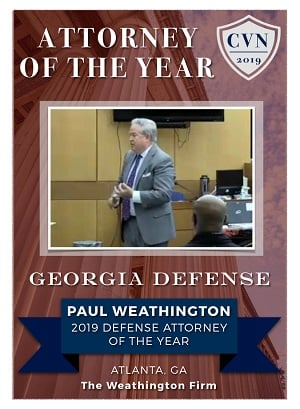 The Trials: Lockhart v. Bloom, et al. and Izundu, et al. v. Choi, et al.
The Verdicts: Weathington, practicing in Atlanta's Weathington McGrew defense firm before a late 2019 split led to the Weathington Firm, opened the year by securing a directed verdict in Lockhart. Weathington followed up on that win by clearing a Georgia neurologist in Izundu.
The Details: In Lockhart, Weathington represented Dr. Glenn Bloom, an ER physician accused of negligence that led to the loss of a patient's leg. Although another physician was ultimately found responsible, the case against Bloom never made it to the jury, with Weathington leading a defense that helped win a directed verdict.
Izundu, a $10 million medical malpractice case over a condition that left Kimberly Izundu blind, turned on whether Dr. Brice Choi, a neurologist, could have done more to save Izundu's sight. Weathington powerfully argued evidence showed Choi properly ordered follow-up care with an ophthalmologist, but that Izundu did not follow through in a timely manner.
"We told her to go to the eye doctor because she's got vision trouble. That's why you go to the eye doctor, because your eyes aren't working good, and you might lose vision," Weathington said in closings. "I guess we had to drive her. I guess we had to get an Uber. I guess we had to follow her around and make sure she'd gone."
Weathington's standout work in the courtroom cleared his clients in two major medical malpractice cases and earned him CVN's honor as 2019 Georgia Defense Attorney of the Year.
Email Arlin Crisco at acrisco@cvn.com.
Related Information
Learn how you can watch the best trial attorneys in action, in Georgia and across the country.