Georgia's top defense attorneys won high-stakes, CVN-covered trials across the state this year. CVN Georgia's 2016 Defense Attorney of the Year earned the honor with a critical win in an eight-figure medical malpractice trial.
CVN Georgia's Defense Attorney of 2016: Huff Powell Bailey's R. Page Powell
The trial: Palacios v. Kaufman.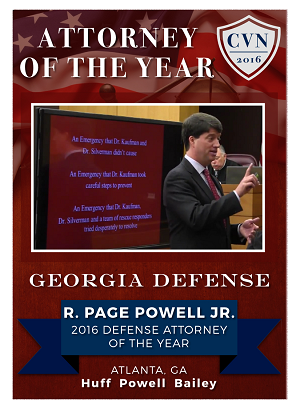 The verdict: After more than 12 hours of deliberations, jurors cleared Powell's clients, a pair of anesthesiologists accused of medical malpractice, in the $27 million trial.
The details: Esmeralda Palacios, a former loan officer with a history of asthma, suffered catastrophic brain damage during a 2012 surgery when a bronchospasm, or spasm in her respiratory system's bronchioles, deprived her of oxygen.
Powell's clients, Drs. Laura Kaufman and Donald Silverman, were accused of failing to promptly inject Palacios with epinephrine in time to avoid her catastrophic brain damage. However, through expert and witness testimony during the week-long trial, Powell and the defense team worked to establish the physicians followed proper protocol in treating Palacios' broncospasm, including administering both albuterol and at least four doses of epinephrine to Palacios.
In his closing argument, Powell argued there was no proof an earlier epinephrine injection would have resolved the bronchospasm and prevented Palacios' brain damage. "As you've heard from everybody, a bronchospasm that's this severe? All bets are off. You just don't know. And here they tried everything they knew to try, including epinephrine," Powell said. "The plaintiff's case that this one dose (of epinephrine) a few minutes earlier would have changed everything is just not supported by the evidence."
Powell's masterful work in the courtroom helped his clients prevail in the case and earns him the distinction as CVN's Defense Attorney of 2016. The award is the second in a row for Atlanta's Huff Powell Bailey. CVN named Powell's partner, Daniel Huff, its 2015 Georgia Defense Attorney of the Year.

Email Arlin Crisco at acrisco@cvn.com.
Related Information
Not a subscriber?
Learn how you can see the best attorneys in action, in Georgia and across the country.