Top defense attorneys won key CVN-covered trials throughout Georgia in 2015. CVN Georgia's 2015 Defense Attorney of the Year earned the honor going undefeated in two major medical malpractice trials in front of CVN cameras.
CVN Georgia's Defense Attorney of the Year: Huff Powell's Daniel Huff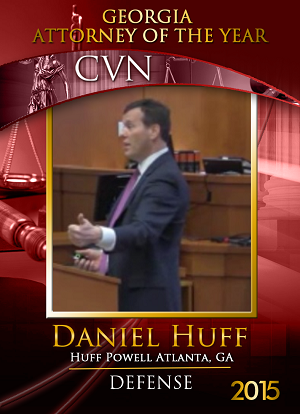 The trials: Bailey v. Corso and Aiken v. Whitworth.
The verdicts: Huff's clients in both medical malpractice cases, were cleared of the negligence claims against them.
The details: In Bailey, Huff's client, J. Eduardo Corso was accused of negligence in fatally puncturing Arlene Bailey's heart during a catheterization procedure. In Aiken, Dr. Steven Whitworth was accused of negligence during surgery that led to a patient's ileostomy.

While the cases were different, Huff's performance in each was the same, combining strong examinations of expert witnesses with clear, cogent argument that connected with jurors, Huff proved in both cases that his clients had not breached their standards of care.

Huff's trial work protected his clients from millions in potential damages and earned him the distinction as CVN Georgia's Defense Attorney of the Year.
---

Related Information
Watch Bailey v. Corso on demand.
Watch Aiken v. Whitworth on demand.
Not a Subscriber?
Learn more about CVN's unparalleled coverage of top Georgia trials.