Many of Florida's best defense attorneys appeared before CVN's cameras in 2019. CVN Florida's Defense Attorney of the Year earned the award by clearing a Kroger-owned nutrition company in a major products liability case.
CVN Florida's Defense Attorney of 2019
Nicklaus & Associates P.A.'s Edward Nicklaus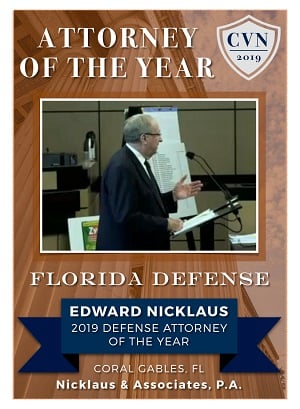 The Trial: McCants v. Vitacost.com, Inc.
The Verdict: In April, jurors cleared Kroger-owned nutrition company Vitacost.com of responsibility for the catastrophic liver damage James McCants claims he suffered because of the company's green tea extract.
The Details: McCants, who was forced to undergo a liver transplant months after beginning to take Vitacost's green tea extract, claims the company failed to warn him of the possibility that the supplement could damage his organs. At trial, his attorneys requested more than $6 million in medical expenses alone, plus unspecified damages for pain and suffering.
Key to the case was what, if any, link the supplement had to McCants's liver failure. Nicklaus argued that Vitacost's general warnings about the supplement were sufficient, contending studies failed to show green tea extract posed an unreasonable risk of liver damage.
Further, Nicklaus argued McCants took a long list of supplements, some of which were associated with liver problems, without consulting a doctor, as warnings advised. "Mr. McCants is a self-treater," Nicklaus said. "What you put in your body, ladies and gentlemen, you ought to get advice for, especially if you're old enough to know better. That's just common sense."
Nicklaus's adept courtroom work led jurors to clear Vitacost after about four hours of deliberations. And it made him stand out as CVN Florida's Defense Attorney of 2019.

Email Arlin Crisco at acrisco@cvn.com.
Related Information
Watch the best attorneys in action, in Florida and across the country.