CVN cameras were in the courtroom for key defense wins in major trials throughout Florida in 2016. The winners of the CVN Florida's Defense Attorney of the Year distinguished themselves with a hard-fought win in a medical malpractice trial with up to $75 million at stake.

CVN Florida's Defense Attorneys of 2016:
Cole, Scott & Kissane's Michael Brand and Jami Gursky
The trial: Dadi v. Sharma.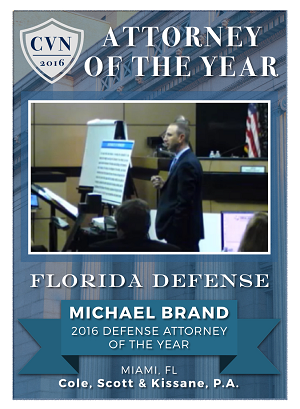 The verdict: Jurors cleared psychiatrist Dr. Praturi Sharma of negligence in overseeing electroconvulsive therapy, sometimes called ECT or electroshock therapy, on Dr. Shaul Dadi, a former cardiologist who had suffered from depression. Dadi's attorneys had sought up to $75 million in the case for brain damage they claim was caused by the treatments.
The details: Dadi, a South Florida cardiologist, claims Sharma acted without informed consent and delivered improperly high levels of electroshock treatment that destroyed Dadi's memory and ended his career. However, Cole, Scott & Kissane partners Michael Brand and Jami Gursky, representing Sharma, contended the cardiologist had been a suicide risk for which electroshock therapy was the best option to save his life. "There is no better evidence that ECT was appropriate, warranted, and needed than the fact that every single doctor who saw him agreed. They all agreed," Gursky said in her opening statement. "The only ones who don't agree are the ones who are reviewing this case in hindsight."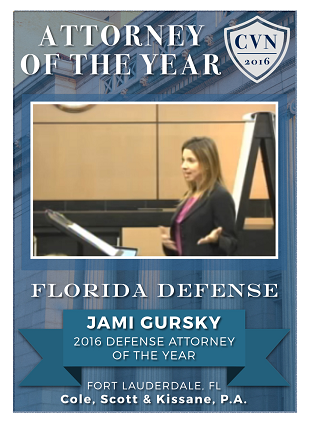 Through a slate of expert testimony, the defense team sought to refute potential negative stereotypes of electroshock therapy and challenged the link between the therapy and the brain damage at issue in the trial. "[ECT] is the recognized treatment for severe depression and suicidality," Brand said in his closing argument. "And no one, no one—again other than [plaintiff's expert] Dr. [Peter] Breggin—has ever seen or heard of anything like [Dadi complained of]. And by the way, we are talking about hundreds of thousands of patients annually, worldwide," Brand said. "Why is that? Because ECT doesn't cause what Dr. Dadi is now claiming, period."
Brand and Gursky's skill in clearing their client in a high-stakes case involving a treatment potentially saddled with negative perceptions earned their place as CVN Florida's Defense Attorneys of 2016.
Related information
Not a subscriber?
Learn how you can watch the best attorneys in the biggest trials, in Florida and across the country.