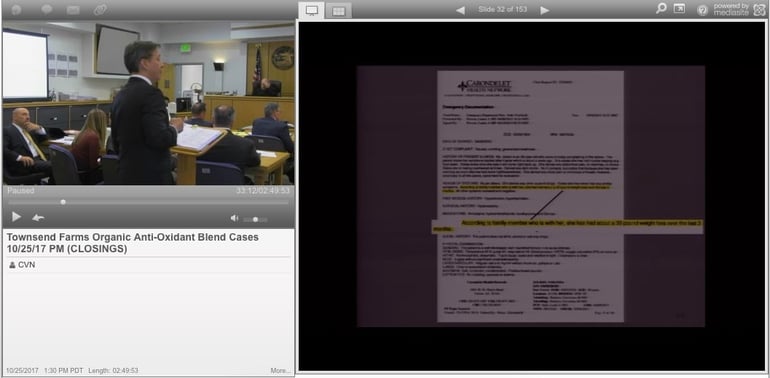 CVN screenshot of Costco attorney Eric Kuwana delivering his closing argument
Los Angeles - A California state court jury has cleared Costco and other companies of any liability for the death of an 89-year-old woman whose children sought $18 million after she allegedly contracted hepatitis A from eating a frozen berry blend they claimed purchased from the store.
The jury returned a unanimous 12-0 verdict on October 26 in favor of Costco, berry blend maker Townsend Farms Inc., fruit brokers Purely Pomegranate Inc. and other suppliers after deliberating for less than a day following a 10-day trial. Costco argued that there was no evidence Virginia Jolson actually purchased the berry blend in question from the bulk grocery store.
Jolson's six adult children claimed that she died in 2013 due to eating Townsend Farms Organic Anti-Oxidant Blend, which their lawsuit alleged contained tainted pomegranate seeds, called arils, that were originally provided by Turkish pomegranate grower Goknur.
The CDC eventually linked 165 cases of hepatitis A to the contaminated blend, including 80 in California, however Costco argued that Jolson contracted a different form of hepatitis than the one associated with the outbreak. A number of lawsuits stemming from the outbreak were consolidated in California state court and a federal class action, and Jolson's case was the first to go to trial.
The proceedings were webcast live and recorded gavel-to-gavel by Courtroom View Network.
Eric Kuwana of Katten Muchin Rosenman LLP, representing Costco and Townsend, told jurors that health officials never included Jolson's death in the list of cases associated with the anti-oxidant blend outbreak. He characterized her lawsuit as "lawyer-driven from the outset" and stressed there was no evidence Jolson actually purchased the blend, noting that Jolson never had a Costco membership.
Jolson's children claimed they found bags of the berry blend in her home after she fell ill, but Kuwana argued that their attorneys never presented any evidence in the forms of receipts or photographs to back up that allegation.
Goknur's attorney, Damian Martinez of LTL Attorneys LLP, similarly characterized the lawsuit as "lawyer-driven" and lacking any "hard evidence."
Ron Simon of Ron Simon & Associates, representing Jolson's children, argued that the eyewitness evidence of Jolson's children, who testified that they saw bags of the berry blend in her refrigerator, should outweigh lack of receipts. He maintained that the only likely source of Jolson's hepatitis A was the blend, noting that there were no other hepatitis outbreaks in the United States at the time of Jolson's death other than the one stemming from Townsend Farms' products.
"They didn't present any evidence, nothing, not a single doctor, not a single medical professional to say it was something else," Simon told jurors during his closing argument.
Attorneys for the parties did not respond to requests for comment.
The trial took place before Judge John S. Wiley in Los Angeles County Superior Court.
The full trial is available to CVN subscribers as part of CVN's one-of-a-kind online archive of civil jury trials.
Jolson's children were also represented by John H. Gomez of Gomez Trial Attorneys.
Jolson's case is captioned Darla Schelitzche et al. v. Townsend Farms Inc. et al., case number BC576437, which is part of the consolidated docket Townsend Farms Organic Anti-Oxidant Blend Cases, case number JCCP4812.
E-mail David Siegel at dsiegel@cvn.com