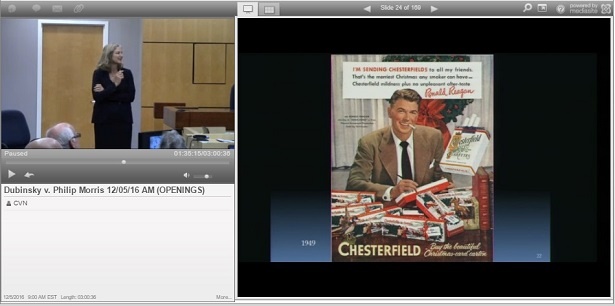 Laura Shamp delivers her opening statement at trial against Philip Morris and R.J. Reynolds. Shamp's client, Abigail Dubinsky, claims tobacco industry concealment of smoking's dangers killed her husband, Paul.
---
Viera, FL—Attorneys debated the role smoking and decades of alleged fraud played in the death of a Florida man as trial began Monday against two tobacco industry giants. Dubinsky v. Philip Morris, 2014-CA-026783.
Paul Dubinsky, 70, died in 2006, 11 years after doctors diagnosed him with chronic obstructive pulmonary disease, or COPD. Dubinsky, who had his first cigarette at 15, smoked up to almost three packs of cigarettes a day for more than 35 years. Abagail Dubinsky claims Philip Morris and R.J. Reynolds, makers of the Marlboros and Tarytons Dubinsky smoked, caused her husband's death by hiding the dangers and addictiveness of their cigarettes.
During Monday's openings statements, Abigail Dubinsky's attorney, Shamp Speed Jordan & Woodward's Laura Shamp, told jurors decades of tobacco industry documents would show the companies engineered their cigarettes with precise amounts of nicotine in order to hook smokers like Dubinsky while they simultaneously engaged in a decades-long campaign to cast doubt on the growing scientific evidence that smoking was dangerous.
"They knew that nicotine was the reason people smoked," Shamp said. "They created their product to keep people smoking."
Shamp said Dubinsky tried and failed in several quit attempts in the years before his COPD diagnosis. She added that, nearly a decade before he was able to quit for good, he switched from Marlboro cigarettes to Tarytons because he believed tobacco industry marketing that the lower-tar Tarytons were safer.
Shamp acknowledged Dubinsky suffered from skin cancer before his death, but told jurors it was the COPD, which confined him to a wheelchair, rendered him dependent on oxygen tanks, and limited cancer treatment options, that ultimately killed him. "The actions of the defendants affected the very fabric of life of [the Dubinsky] family," Shamp said, noting COPD was listed as the cause of death on Dubinsky's death certificate.
But the defense challenges that claim. During Monday's opening statements, Shook Hardy's Frank Kelly told jurors Dubinsky refused doctor-recommended surgical removal of his tumor under local anesthesia and a pulmonologist would testify Dubinsky did not die from his COPD. "Mr. Dubinsky died from skin cancer," Kelly said.
Kelly also contends Dubinsky smoked by choice, not because of addiction. On Monday, Kelly told jurors Dubinsky smoked for years, despite hearing cigarettes were dangerous, because he believed smoking wouldn't harm him. "Is the evidence that he couldn't quit because he was a cigarette addict or that he wouldn't quit because he had no interest in quitting until the potential risks of smoking became a real harm to him?" Kelly asked.
King & Spalding's Jason Keehfus, representing Reynolds, added Dubinsky knew smoking was dangerous years before he ever started smoking Reynolds' Tarytons. "He began smoking those cigarettes informed of the dangers," Keehfus said, arguing Dubinsky's respiratory illnes predated the disease's diagnosis by years. "The evidence will show he already had COPD by the time he switched to Taryton cigarettes," Keehfus said.
The Dubinsky case is one of thousands of Engle progeny cases in Florida, which stem from a 2006 Florida Supreme Court decision decertifying Engle v. Liggett Group Inc., a class-action tobacco suit originally filed in 1994. Although the state's supreme court ruled so-called Engle-progeny cases must be tried individually, it found plaintiffs could rely on certain jury findings in the original case, including the determination that tobacco companies had placed a dangerous, addictive product on the market and had conspired to hide the dangers of smoking. However, individual Engle-progeny plaintiffs must prove a variety of elements to establish class membership, including nicotine addiction and a causal link between that addiction and specific health problems such as lung cancer.
The trial pits two attorneys coming off of CVN-covered, Engle trial wins. Laura Shamp, in last year's Jordan v. Philip Morris, won an $11 million verdict for a long-time smoker forced to undergo two lung transplants because of her COPD. Last September, Kelly helped spearhead a defense win in Chacon v. Philip Morris, where jurors found the smoker at the case's center failed Florida residency requirements for Engle class membership.
Trial is expected to last through the end of next week.
Email Arlin Crisco at acrisco@cvn.com.
Related information:
Abigail Dubinsky is represented by Laura Shamp, of Atlanta's Shamp, Speed, Jordan & Woodward.
Philip Morris is represented by Shook Hardy's Frank Kelly, from the firm's San Francisco office. .
R.J. Reynolds is represented by King & Spalding's Jason Keehfus, from the firm's Atlanta office. .
Watch the trial live and on demand.
Not a subscriber?

Click here to learn more about our unrivaled tobacco litigation library.