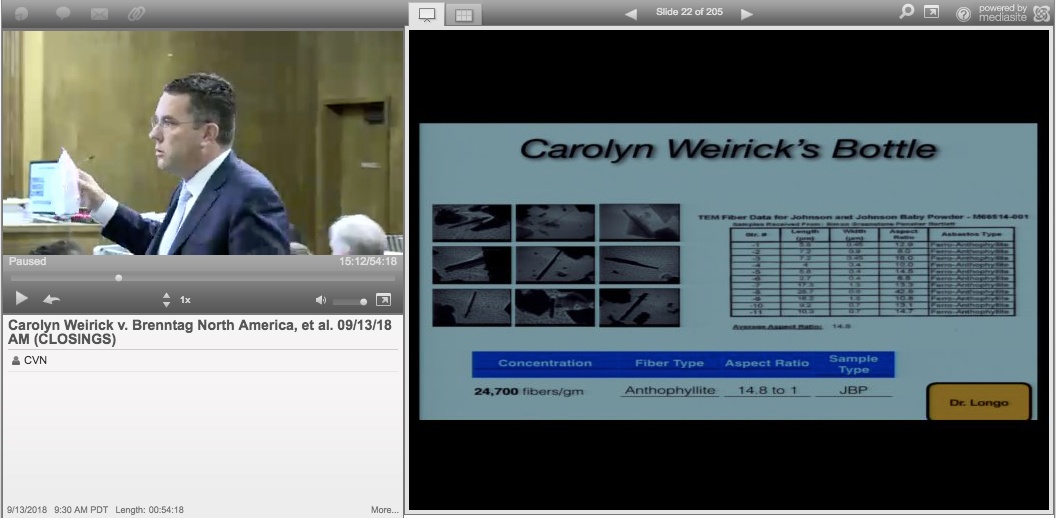 CVN screenshot of plaintiff attorney Jay Stuemke showing jurors a bottle of baby powder during his closing argument used by his client that he alleges contained asbestos
Pasadena, CA and New Brunswick, NJ - A California state court jury is currently hearing closing arguments in the fourth trial over claims that asbestos in Johnson & Johnson's cosmetic talc products causes mesothelioma, while another jury in J&J's home state of New Jersey will hear opening statements in a similar trial on Monday.
Plaintiff Carolyn Weirick's trial began in Los Angeles County on August 20. She claims exposure to products like Johnson's Baby Powder and Shower to Shower starting in her infancy caused her cancer.
Rosalind and Frederick Henry's lawsuit in Middlesex County, New Jersey involves similar allegations, and both trials will be webcast gavel-to-gavel by Courtroom View Network.

Three previous mesothelioma-related trials involving J&J's talc products have taken place in Los Angeles County. The first in December of last year (also the first such trial in the country) ended in a defense verdict. The next ended in a $21.7 million plaintiff verdict in May, and another trial ended prematurely that same month after the death of the plaintiff.
The same firm, Texas-based Simon Greenstone Panatier PC, represented the plaintiffs in all four trials. J&J is represented in the current trial by Orrick Herrington & Sutcliffe LLP.
Only one prior trial took place in New Jersey involving J&J's talc products. That ended in a $117 million verdict in April. This pending trial would have been the first in New Jersey involving Colgate's cosmetic talc products, but the company settled out of the case on Friday along with J&J talc supplier Imerys.
The plaintiffs in the pending trial are represented by the South Carolina-based firm Motley Rice, and J&J is represented by McCarter & English LLP and Weil Gotshal & Manges LLP.
Both J&J and Colgate filed motions seeking to bar news media cameras from the courtroom in these trials, but they were rejected. Both companies have pursued an aggressive strategy of seeking to exclude video cameras from trials involving talc products, however to date they have been largely unsuccessful.
CVN has recorded numerous cosmetic and industrial talc cases involving both mesothelioma and ovarian cancer in Missouri, California, New Jersey, South Carolina and Florida. They are all available to subscribers as part of CVN's trial video archive.
CVN planned to cover another talc mesothelioma trial set to begin this week in South Carolina involving J&J and Colgate, but the case settled just prior to the start of jury selection.
The cases are captioned:
Weirick v. Brenntag North America, et al., case number BC656425, in Los Angeles County Superior Court, CA.
Henry v. Brenntag North America, et al., case number L-1748-17, in Middlesex County Superior Court, NJ.
E-mail David Siegel at dsiegel@cvn.com