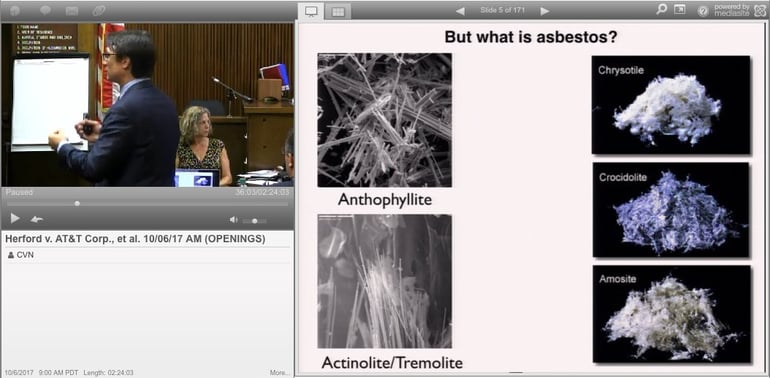 CVN screenshot of plaintiff attorney Chris Panatier delivering his opening statement on October 19
Los Angeles - For the second time in two weeks, a California state court jury heard opening statements on Thursday in the nation's first trial over claims that Johnson & Johnson's talc-based body powders contain asbestos, following an earlier mistrial.
A different jury initially heard opening statements on October 6, but Judge C. Edward Simpson granted a defense request for a mistrial shortly afterwards when plaintiff Tina Herford, testifying as the first witness in the case, referenced a possible link between talc powder and ovarian cancer. Judge Simpson had previously barred any mention of ovarian cancer during the trial, since Herford argues that inhaling talc products caused her to develop mesothelioma, a different type of cancer that is frequently associated with asbestos exposure and affects the tissue around the lungs.
The stakes are high for J&J and co-defendant Imerys Talc America, their talc supplier. Over the last two years juries in Missouri and California returned six verdicts totaling hundreds of millions of dollars in favor of women alleging that decades of using products like Johnson's Baby Powder and Shower to Shower on their genitals caused them to develop ovarian cancer. Those verdicts spurred thousands of women across the country to file similar claims, and a plaintiff's verdict in Herford's case could expose J&J to a new wave of lawsuits from people claiming they developed cancer from inhaling talc powder.
J&J and Imerys argue that their cosmetic talc powder products never contained asbestos, and that Herford's cancer is the result of intensive radiation treatments she received for breast cancer in the 1990's.
The trial is being webcast live gavel-to-gavel by Courtroom View Network.
Representing Herford and her husband Douglas, attorney Chris Panatier of the Texas-based firm Greenstone Panatier Bartlett PC told jurors during his opening statement that J&J knew for decades that its talc products contained asbestos and intentionally withheld that information from the public. He claimed internal J&J documents indicated that knowledge went as far back as the beginning of the 20th century.
"The evidence will show that J&J has concealed the fact that their talc contains asbestos for about one hundred years," Panatier said.
Panatier described how Herford used Baby Powder and Shower to Shower in the 1950's, and also in the 1980's and 1990's while changing her children's diapers. She was diagnosed with mesothelioma, which can take decades to manifest after an alleged exposure to asbestos, in 2016. The disease is usually fatal.
Asbestos occurs naturally in the talc deposits, but Panatier argued the company worked to discredit studies indicating the presence of asbestos in talc rather than warn the public and risk hurting sales of some of its most popular and profitable brands. Without indicating a specific amount, he told jurors he would ask them to award "tens of millions of dollars" to the Herfords.
Representing J&J, Sharla Frost of Tucker Ellis LLP's Houston, Texas office told jurors that mesothelioma has many causes besides asbestos, and described how Herford underwent 30 radiation treatments for breast cancer focused on the same part of her body where she later developed mesothelioma. She noted that the American Cancer Society lists radiation therapy as a potential cause of mesothelioma.
"We're going to show you that Mrs. Herford had an intense treatment and that radiation caused mesothelioma," she said.
Frost argued that only five percent of global talc supplies meet the high standards for use in cosmetic products, and that many of the studies cited by plaintiffs referred to other asbestos-containing talc sources that were never used in J&J's products.
Representing Imerys, Todd Benoff of Alston & Bird similarly argued that the talc they supplied to J&J for use in its cosmetic products never contained asbestos.
The trial is expected to take between six and eight weeks to complete.
CVN will be recording and webcasting the full trial gavel-to-gavel. Numerous talc trials are also available for on-demand viewing as part of CVN's one-of-a-kind online trial archive.
The case is Tina Herford and Douglas Hereford v. AT&T Corp., et al., case number BC646315 in Los Angeles County Superior Court.
E-mail David Siegel at dsiegel@cvn.com