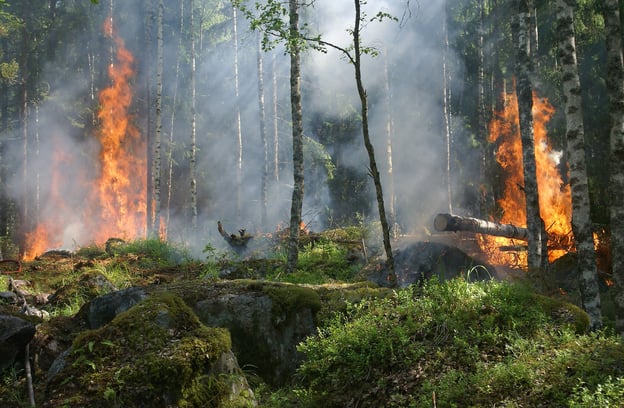 stock photo of a wildfire
Portland, OR - A class action lawsuit accusing Berkshire Hathaway-owned electric power company PacifiCorp of responsibility for widespread wildfires begins Monday in Oregon state court, and the proceedings will be webcast gavel-to-gavel by Courtroom View Network.
Plaintiffs accuse the utility of failure to properly maintain its power lines and neglecting to cut power during a historic windstorm on the evening of Labor Day in 2020. The blaze ultimately affected roughly 2,500 properties, but PacifiCorp has denied any liability for the incident and maintained the fires were the result of an unavoidable natural disaster.
The company could face substantial damages in the case after the presiding judge in late March permitted plaintiffs to seek punitive damages at trial in addition to compensatory damages for housing losses, relocation costs and emotional distress.
Plaintiffs generally face a high bar to certify a class, and a class action then proceeding all the way to a jury trial is relatively rare event. As such both sides will be represented by some of the country's top law firms at the sprawling eight-week trial, which will take place before Multnomah County Circuit Court Judge Steffan Alexander.
The plaintiff class is represented by Edelson PC, Keller Rohrback LLP and Stoll Stoll Berne Lokting & Shlachter PC.
PacifiCorp is represented by Stoel Rives LLP and by Hueston Hennigan LLP.
The case is James, et al. v. PacifiCorp., case number 20CV33885 in Multnomah County Circuit Court.
Email David Siegel at dsiegel@cvn.com