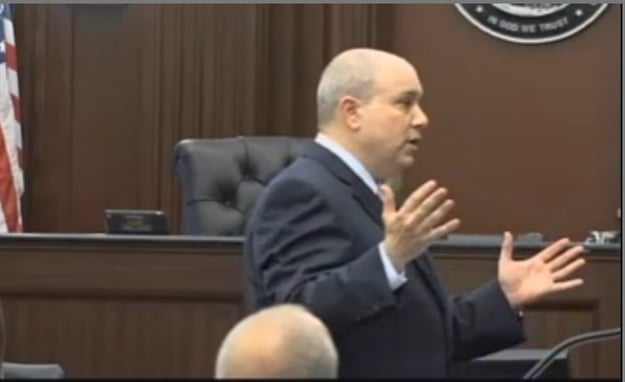 Randy Rosenblum delivers his opening statement on behalf of Lorraine Olson, who claims R.J. Reynolds is responsibile for her husband, Floyd Olson's, cancer death.
---
Jacksonville, FL—Attorneys Friday debated what drove a Florida trucker to smoke up to four packs of cigarettes a day for more than 40 years, as trial over his cancer death opened against R.J. Reynolds. Olson v. R.J Reynolds, 2008-CA-000396.
Floyd Olson, 59, a long-haul trucker for much of his life, died from cancer in 1996, after more than four decades of smoking Reynolds' unfiltered Camel brand cigarettes. His wife, Lorraine, claims Reynolds hooked her husband on cigarettes and bears responsibility for his fatal lung cancer by hiding the dangers of smoking for much of the 20th century.
During Friday's opening statements, Lorraine Olson's attorney, Dolan Dobrinsky & Rosenblum's Randy Rosenblum walked jurors through tobacco industry documents he said showed a sweeping scheme to cast doubt on scientific evidence of the addictiveness and health risks of smoking.
Rosenblum said Olson, who started smoking when he was about 12, was just one of the millions of kids hooked as "replacement smokers," by Reynolds and a tobacco industry that targeted youth. "We know from their internal documents that younger adult smokers, which they defined as age 12 to 24, are the only source of replacement smokers," Rosenblum said.
The case is one of thousands of Florida's Engle progeny lawsuits against the nation's tobacco companies. They stem from a 2006 Florida Supreme Court decision decertifying Engle v. Liggett Group Inc., a class-action tobacco suit originally filed in 1994. Although the state's supreme court ruled that Engle-progeny cases must be tried individually, it found plaintiffs could rely on certain jury findings in the original case, including the determination that tobacco companies had placed a dangerous, addictive product on the market and had conspired to hide the dangers of smoking through much of the 20th century.
In order to be entitled to those findings, however, each Engle progeny plaintiff must prove the smoker at the heart of their case suffered from nicotine addiction that led to a specific smoking-related disease.
However, Reynolds attorneys portray Olson as an independent-minded man whose smoking was driven by choice rather than addiction. During Friday's openings, Jones Day's John Walker claimed Olson never made a serious attempt to stop smoking, and generally ignored warnings from family and friends to quit cigarettes. "The evidence will show that Mr. Olson spent 100 percent of his time as an adult smoker making adult decisions not to try to quit smoking," Walker said.
Walker challenged plaintiff's contention that Olson had been swayed by tobacco marketing, noting Olson smoked unfiltered cigarettes for much of his life and long after the vast majority of smokers and the bulk of tobacco advertising turned to filtered brands. "Mr. Olson kept smoking his unfiltered Camels because he liked them and that's what he wanted to do," Walker said.
Trial in the case is expected to last through the end of the week.
Email Arlin Crisco at acrisco@cvn.com.
Related Information
Lorraine Olson is represented by Dolan Dobrinsky & Rosenblum's Randy Rosenblum.
R.J. Reynolds is represented by Jones Day's John Walker and Edward Carter.