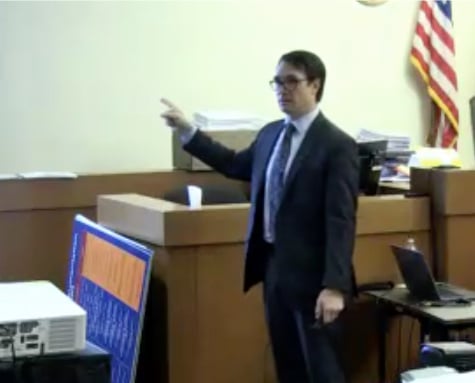 CVN screenshot of plaintiff attorney Chris Panatier delivering his closing argument
New Brunswick, NJ - A New Jersey state court jury on Thursday ordered Johnson & Johnson to pay $750 million in punitive damages to four plaintiffs claiming they were exposed to asbestos in the company's cosmetic talc products, but the trial judge later reduced the award to $186.5 million.
Thursday's verdict comes after a different jury in the initial phase of the trial awarded $37.2 million in compensatory damages last September. The case marks the first time a jury has considered consolidated claims involving multiple plaintiffs blaming their mesothelioma on exposure to J&J's talc products in a single trial.
The jury returned their verdict following roughly two hours of deliberations in a trial that began in early January. Attorneys for the plaintiffs said they hoped the large award would help spur J&J to remove their talc-based cosmetic products from the market, while J&J vowed to appeal.
The full trial was webcast and recorded gavel-to-gavel by Courtroom View Network, which similarly recorded the initial compensatory phase of the trial. Both trial phases, and more than 20 other cosmetic talc trials, are available to subscribers as part of CVN's online video trial library.
Judge Ana Viscomi, who presides over New Jersey's asbestos docket, reduced the award due to a state law limiting punitive damages to no more than five times the amount of a compensatory award.
Both phases of the trial involved dramatic developments that made this case stand apart from other talc trials beyond being the first multi-plaintiff asbestos trial.
In the compensatory phase, Judge Viscomi struck J&J's entire closing argument - an extremely rare sanction at a jury trial of this scale. Judge Viscomi ordered the penalty after a J&J attorney accused plaintiff attorneys of injecting "lawsuit fiction" into their arguments despite warnings from Viscomi not to besmirch opposing counsel.
The punitive phase featured the first in-person testimony at a talc trial from J&J CEO Alex Gorsky, which drew the attention of attorneys and financial analysts throughout the country. J&J unsuccessfully fought the subpoena requiring Gorky's live testimony, including at the appellate level.
Chris Panatier of of the Texas-based firm Simon Greenstone Panatier PC told CVN after the trial that the documentary evidence his team presented showing J&J's alleged concealment from the public of the health risks associated with asbestos supposedly present in cosmetic talc products played a key role in swaying the jury.
"JJ's own documents and testimony prove the case against them," Panatier said in an email. "We as lawyers have to do very little but put them into a logical order and present them They wrote it all down."
"We believe the jury saw what so many others have," Panatier added. "JJ concealed test results, fixed test methods and procedures all with an aim to preventing the detection of what they knew was in their talc."
The trial took place after the FDA announced late last year that it detected asbestos in a single batch of J&J's talc products that the company then voluntarily recalled. J&J vehemently disputes the agency's findings, blaming the positive asbestos result on testing errors by third party labs.
John Beisner of Skadden Arps Slate Meagher & Flom LLP, who represented J&J at trial, told CVN the trial was "an outlier from the very beginning with the highly unusual and prejudicial two phases and was riddled with legal error all throughout." He said the company had strong grounds to appeal both the compensatory and punitive verdict.
J&J spokesperson Kim Montagnino added, "Today's verdict is at odds with the decades of evidence showing the Company acted responsibly, was guided by sound science and used the most sophisticated testing available for its talc."
After the reduction in the punitive award ordered by Judge Viscomi, the payouts to the four plaintiffs breaks down as:
- $36 million to Douglas Barden, 65
- $47 million to David Etheridge, 57
- $73 million to D'Angela McNeill-George, 41
- $29 million to Will Ronning, 46
All four plaintiffs claim they developed mesothelioma, a fatal form of cancer, from decades of exposure to asbestos in talc products like Baby Powder and Shower to Shower going back to their childhood.
In addition to Chris Panatier, the plaintiffs were also represented by Moshe Maimon of Levy Konigsberg LLP, and by Christopher Placitella and Harry Roth of Cohen Placitella & Roth APC.
J&J was also represented by Allison Brown from Skadden Arps Slate Meagher & Flom LLP.
J&J faces its next talc trial later this month in Connecticut, in what will be the first cosmetic talc case to go to trial in the state.
The New Jersey case is captioned Barden v. Brenntag North America, case number L-1809-17, in Middlesex County Superior Court.
E-mail David Siegel at dsiegel@cvn.com