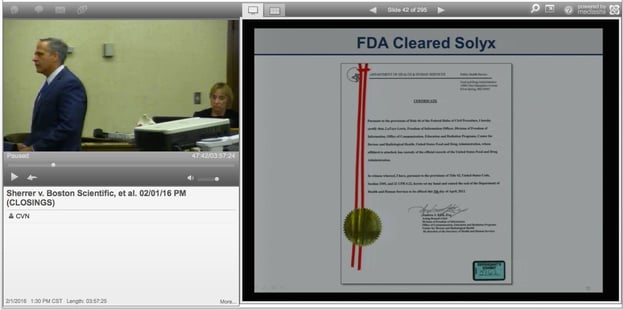 Defense attorney Robert Adams delivers his closing argument. (Click here to see video from the trial.)
Kansas City — A Missouri state court jury on Tuesday handed a major victory to Boston Scientific Corp. and C.R. Bard Inc., finding that two of the companies' pelvic mesh implants are not defective and did not cause injuries to a retired nurse who claimed the devices left her in chronic pain.
The jury deliberated for less than two days before deciding 10-2 that Boston Scientific's Solyx and Bard's Align implants did not cause plaintiff Eve Sherrer's discomfort. Sherrer's attorneys argued the implants used a type of polypropylene mesh that was too stiff for use in human tissue, but the defendants successfully convinced jurors that Sherrer's pain could be the result of arthritis in her hip and other medical conditions.
Sherrer's attorneys had asked the jury to award her up to $28 million in damages for claims of product defect, failure to warn and negligence, according to a Courtroom View Network webcast of the proceedings. CVN has also recorded pelvic mesh trials in Texas, California, Massachusetts and New Jersey.
The trial began on December 2 of last year, making it the longest-running pelvic mesh trial to date. It also marked the first time a jury has heard arguments about two mesh products from two different manufacturers during the same trial, and is the first time a case involving either the Solyx or Align has gone to trial.
Out of the nearly 70,000 pelvic mesh lawsuits pending in state and federal courts throughout the country, only a handful have been decided by juries, with 17 verdicts favoring plaintiffs and 5 favoring various mesh manufacturers.
A Boston Scientific spokesman told CVN the company is pleased with the verdict and "believes the jury reached the right decision based on the facts and the law." A representative for Bard and attorneys for Sherrer did not immediately respond to requests for comment.
Sherrer had the Solyx mesh implanted in 2010 to treat pelvic organ prolapse, a condition in which internal organs in the abdomen shift from their normal position. The implant failed and caused her to become incontinent, so 67 days later most of the Solyx was removed and the Align implant was placed in Sherrer's pelvis.
Her attorneys told jurors the implants used a Marlex-brand mesh with holes the defendants knew were too small for it to properly integrate with human tissue, and that it stiffened after reacting with bodily fluids, causing Sherrer severe pain. Even with additional surgery the mesh could not be entirely removed, her attorneys claimed.
Boston Scientific's and Bard's attorneys told jurors that Sherrer, who had undergone a hysterectomy, had a "complicated medical history" and couldn't directly trace her pain to the mesh implants, suggesting instead the pain stemmed from hernia, back and hip problems. They presented expert witnesses who testified her pain was largely caused by severe osteoarthritis of her hip that would eventually require a total replacement of the joint.
The defense also focused on the fact that five weeks into the trial, Sherrer disclosed for the first time that she'd had abdominal mesh implanted years before the Solyx or Align in a surgery performed in 1998. She also claimed to be unable to recall in which hospitals she'd had various medical procedures performed or which doctors operated on her.
The mesh used in the Solyx and Align had been approved by federal regulators, the companies' attorneys argued, and they told jurors the devices represented the "gold standard" in pelvic mesh products.
Sherrer's case is just the second time Bard has defended their mesh products before a state court jury, after a California jury in 2012 awarded $5.5 million to a woman implanted with the company's Avaulta Plus mesh. A third trial is set to begin on February 22 in Florida state court, and the company recently lost an appeal of a $2 million federal verdict.
Boston Scientific has taken 4 previous cases to trial in state court, notching two wins in Massachusetts in 2014 at trials involving their Pinnacle and Obtryx meshes while losing a $73 million case in Texas also involving the Obtryx. In May a Delaware jury slammed the company with a $100 million verdict in a trial involving the Pinnacle and Advantage Fit systems, while Boston Scientific's Uphold mesh system was cleared by a North Carolina federal jury in October.
Sherrer's trial took place before Judge Robert M. Scheiber and was recorded gavel-to-gavel by CVN.
Sherrer is represented by Tom Cartmell of Wagstaff & Cartmell and Grant Davis of Davis Bethune & Jones.
Boston Scientific is represented by Robert Adams and Hildy Sastre of Shook Hardy & Bacon.
Bard is represented by Lori Cohen of Greenberg Traurig.
The case is Eve Sherrer v. Truman Medical Center Inc., et al., case number 1216-CV27879, in Missouri's 16th Judicial Circuit Court.
E-mail David Siegel at dsiegel@cvn.com