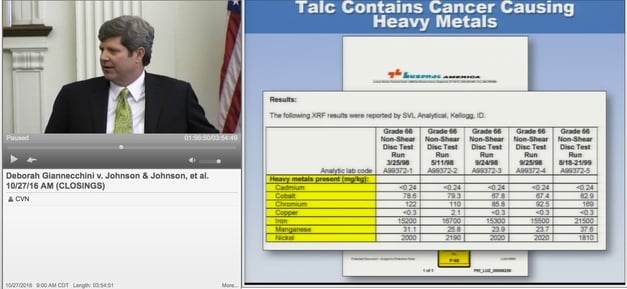 Plaintiff's attorney Allen Smith delivers his closing argument on Thursday. Click here to see video from the trial.
St. Louis — A Missouri state court jury awarded nearly $71 million dollars on Thursday to a woman claiming she developed ovarian cancer due to using Johnson & Johnson's talc-containing personal hygiene products on her genitals for decades, who accused the company of not warning consumers about the products' health risks in order to protect profitable brands.
The jury reached its verdict only a few hours after hearing closing arguments in a lengthy trial that began October 4. They awarded plaintiff Deborah Giannecchini $2.57 million in compensatory damages and 67.5 million in punitive damages. Giannecchini's case is just the third out of more than 1200 others consolidated in Missouri and New Jersey state court to go to trial and was closely watched, after two previous St. Louis juries returned massive verdicts in similar cases earlier this year.
Unlike the other two trials, the jury found J&J's talc supplier, Imerys Talc America, partially responsible for Giannecchini's cancer. In the earlier Missouri trials the company escaped all liability, but this time was stuck with a 10 percent share of Giannecchini's compensatory damages and a $2.5 million portion of the total punitive award.
Giannecchini's attorneys had asked jurors to award her $275 million.
The full trial was webcast and recorded gavel-to-gavel by Courtroom View Network.
Giannecchini, 63, alleged J&J knew talc particles could travel up the fallopian tubes to the ovaries and cause cancer, but withheld the information from the public due to the popularity of brands like Johnson & Johnson's Baby Powder and Shower to Shower. Her attorneys argued that J&J ignored compelling scientific evidence from as far back as 1982 linking ovarian cancer with talc powder use, but J&J maintains that ovarian cancer has no single known cause, and that both the FDA and CDC reviewed the potential cancer risks of talc-containing hygiene products and deemed them safe.
One of Giannecchini's attorneys, Ted Meadows of the Alabama-based firm Beasley Allen, said in a statement that Thursday's verdict signals it is time for J&J to "come clean" about the risks of talc powder.
"When is enough going to be enough? Despite repeated verdicts that hold the company accountable, Johnson & Johnson has refused to remove its talcum powder products from shelves, has refused to warn consumers about the risk, and continues to deny its responsibility," Meadows said.
J&J spokesperson Carol Goodrich told CVN the company plans an appeal.
"We will appeal today's verdict because we are guided by the science, which supports the safety of Johnson's Baby Powder," Goodrich said.
Imerys spokesperson Dan Rene told CVN the company is disappointed by the jury's decision.
"Unfortunately, this verdict serves to undermine efforts by the scientific community to determine the true causes of ovarian cancer and help lead us to a cure for this tragic disease," Rene said. "Imerys utilizes a rigorous set of proprietary safety procedures in the production of talc, and we are confident that our products are safe."
Both Goodrich and Rene noted that a New Jersey state court judge recently dismissed a talc powder case shortly before going to trial after finding the plaintiffs lacked sufficient medical evidence to support their claims. Most state court talc cancer cases are centralized in New Jersey and Missouri, so Thursday's verdict, along with Missouri's less stringent standard for admitting expert testimony, will likely make that state the preferred forum for newly filed talc cases.
Given the impact these initial trials could have on shaping the terms of any eventual large-scale settlement, a battalion of high-powered attorneys descended on Judge Rex Burlison's St. Louis courtroom from all across the country.
Along with Beasley Allen, Giannecchini was also represented by Allen Smith of the Mississippi-based Smith Law Firm, who delivered the plaintiff's closing argument, Mississippi-based Porter & Malouf, and local Missouri firm Onder Shelton O'Leary and Peterson LLC.
All four plaintiff's firms represented women in the previous two Missouri talc trials, but J&J had two new firms heading up their defense after previously turning to Butler Snow LLP and Shook Hardy & Bacon LLP. This time David Dukes of Nelson Mullins Riley & Scarborough's Columbia, South Carolina office delivered the company's closing argument, backed up by Kathleen Gallagher of the Texas-based firm Beck Redden LLP.
Imerys was represented by Nancy Erfle of Gordon & Rees' Portland, Oregon office. Gordon & Rees also represented Imerys in the previous two Missouri trials.
A third consecutive verdict will likely spawn a new wave of potential claims against J&J and Imerys. After the last Missouri verdict in May, Beasley Allen claimed to be reviewing roughly 5000 possible new cases.
J&J may attempt to pull future cases into federal court, where 54 pending talc cases were recently consolidated into multidistrict litigation in New Jersey. The company made an unsuccessful last minute bid to remove Giannecchini's case to federal court in September shortly before the start of jury selection, but was rebuffed by U.S. District Judge Jean C. Hamilton.
Only one talc powder case has gone to trial in federal court. A South Dakota jury in 2013 found J&J to be negligent but awarded the plaintiff no damages.
The next state court talc trial is scheduled for January according to court records.
Giannecchini's case was consolidated under the caption Tiffany Hogans, et al. v. Johnson & Johnson, et al, case number 1422-CC09012-01, in Missouri's 22nd Judicial Circuit in St. Louis.
Email David Siegel at dsiegel@cvn.com