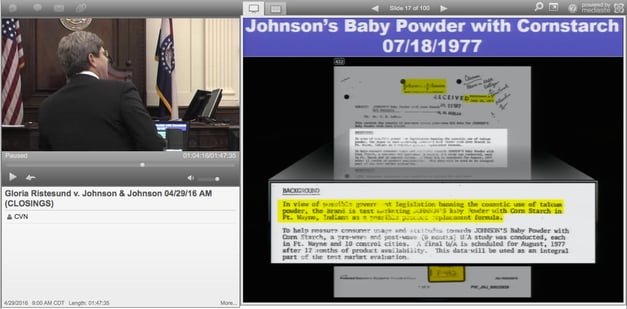 Plaintiff's attorney Allen Smith shows jurors internal J&J documents from the 1970's during his closing argument. Click here to see video from the trial.
St. Louis — A Missouri state court jury on Monday slammed Johnson & Johnson with a $55 million verdict in a lawsuit filed by a woman claiming she developed ovarian cancer after using talc-powder products on her genitals for decades, and that the company knew the mineral posed a serious health risk but continued to sell it.
Plaintiff Gloria Ristesund's case marks the second time in a row a jury blasted J&J in a talc-related case, with nearly 1,200 similar lawsuits pending. The verdict was reached following a three-week trial and consists of $5 million in compensatory damages and $50 million in punitive damages. In February another St. Louis jury awarded $72 million to a woman who also claimed prolonged talc-powder use caused her to develop ovarian cancer.
J&J said it will appeal the jury's verdict. The full trial was recorded and webcast gavel-to-gavel by Courtroom View Network. (Click here to see video from the trial.)
Imerys Talc America, J&J's sole talc provider, was also a defendant in the trial and was cleared of all liability.
Attorneys for Ristesund, 62, argued that J&J continued to use talc-powder in its popular Baby Powder and Shower To Shower Powder even after it began to replace the mineral with cornstarch powder in other products, and that J&J specifically marketed the talc-based powders to the African-American and Hispanic communities. Ristesund's cancer is currently in remission after she underwent a full hysterectomy.
"This second jury verdict affirms that Johnson & Johnson knew that its talcum powder products posed a risk to women's health, but they did nothing to warn the public," attorney Ted Meadows of the firm Beasley Allen, who represents Ristesund, said in a statement. "There are safer alternatives made with cornstarch, which Johnson & Johnson also sells. There really was no reason for them to leave this product on the market. At the very least, they could have added a warning label to alert women to the risk of ovarian cancer."
J&J denied that talc-powder caused Ristesund's cancer and argued throughout the trial that the U.S. Food & Drug Administration held hearings in the 1990's on the risks of talc and concluded it was safe. Their attorneys argued the agency stated in 2014 that there was no conclusive evidence of a link between talc-powder-based hygiene products and ovarian cancer.
Company spokeswoman Carol Goodrich told CVN that while J&J sympathizes with women afflicted with ovarian cancer the disease has no known cause.
"Unfortunately, the jury's decision goes against 30 years of studies by medical experts around the world that continue to support the safety of cosmetic talc," Goodrich said in a statement.
During closing arguments another of Ristesund's attorneys, Allen Smith of The Smith Law Firm, showed the jury internal J&J documents dating back to the 1970's that he said proved they knew the potential cancer risks associated with talc-powder. One document from 1992 showed the company intentionally marketed talc-containing products in order to increase sales, Smith argued.
Talcum powder products generated nearly $374 million for J&J in 2014 according to market research firm Euromonitor.
Smith didn't ask for a specific amount in damages during his closing argument, instead telling jurors that "compensating my client with a significant amount could change their behavior."
This second major trial loss for J&J could lead to a flood of additional talc-related lawsuits being filed against the company. The firm Beasley Allen, which also represented the plaintiff in the previous Missouri talc-powder trial, has claimed in interviews to be reviewing nearly 5,000 similar cases.
The next talc-powder trial in Missouri is scheduled for September. In 2013 a North Dakota federal jury found J&J to be negligent in the first talc-powder cancer case to go to trial but awarded the plaintiff no damages, according to court records.
Ristesund's trial took place before Judge Rex Burlison.
Ristesund was represented by Jere L. Beasley, Ted G. Meadows, David P. Dearing, Danielle Ward Mason and Britany Scott of Beasley Allen, Stephanie Rados, James G. Onder and W. Wylie Blair Onder of Shelton O'Leary & Peterson LLC, and by R. Allen Smith, Jr. of The Smith Law Firm.
Johnson & Johnson was represented by Christy Jones of Butler Snow LLP and Gene Williams of Shook Hardy & Bacon LLP.
Imerys was represented by Nancy Erfle and Kenneth Ferguson of Gordon & Rees LLP.
The case is Ristesund v. Johnson & Johnson et al, case no. 1422-CC09012 in the Circuit Court of the City of St. Louis in Missouri.
E-mail David Siegel at dsiegel@cvn.com