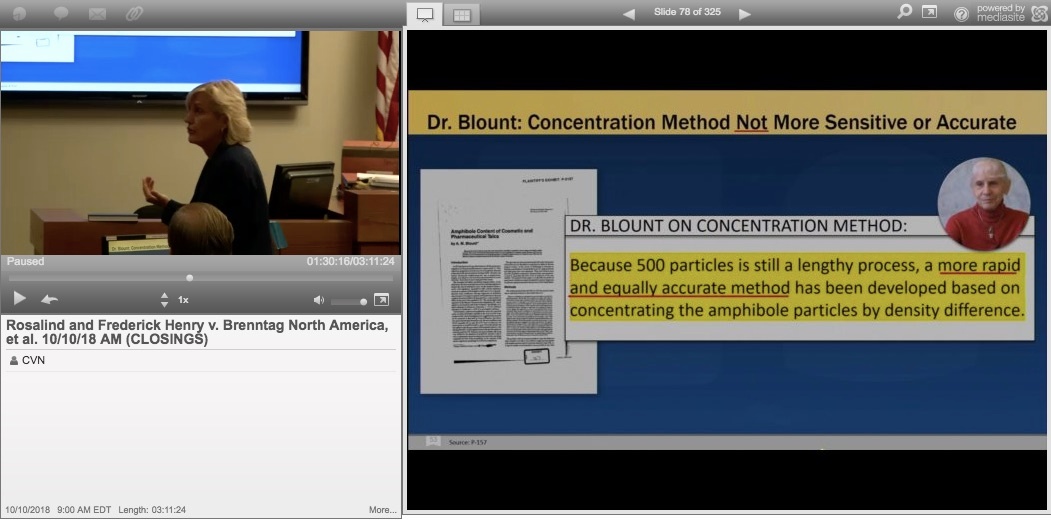 CVN screenshot of J&J attorney Diane Sullivan delivering her closing argument
New Brunswick, NJ - A New Jersey state court jury delivered a major victory for Johnson & Johnson on Thursday, when they returned the first defense verdict in a talc powder trial in the company's home state.
Jurors in a courtroom just a few miles away from J&J's US headquarters deliberated for less than 30 minutes before determining that plaintiff Rosalind Henry's mesothelioma was not caused by inhaling asbestos fibers supposedly present in products like Johnson's Baby Powder like she claimed.
The trial, which spanned four weeks, was closely watched after the only other J&J talc trial to date in New Jersey ended in a $117 million verdict earlier this year. Both trials were webcast live and recorded gavel-to-gavel by Courtroom View Network.
J&J spokeswoman Kim Montagnino told CVN the company is pleased with the verdict.
"We have deep sympathy for anyone diagnosed with any form of cancer and appreciate that people are looking for answers," Montagino said in a email. "However, Johnson's Baby Powder is not the cause of this disease. Over the past 50 years, multiple independent, non-litigation driven scientific evaluations have been conducted by respected academic institutions and government bodies, including the U.S. Food and Drug Administration, and none have found that the talc in Johnson's Baby Powder contains asbestos."
Henry's attorneys did not immediately respond to a request for comment.

Henry claimed that decades of exposure to talc powder, starting when she was an infant, caused her mesothelioma, and that J&J withheld knowledge of asbestos supposedly present in its cosmetic talc products for years. J&J countered that their talc products never contained asbestos, and that plaintiffs' claims suggesting otherwise are based on faulty science and opinions by paid experts.
It has now been nearly six months since plaintiffs attorneys landed a victory in a J&J talc/mesothelioma trial. The aforementioned New Jersey trial and a trial in Los Angeles this spring ended in plaintiff verdicts, but every trial since then has ended in a mistrial - a result that given the enormous resources required to take these cases to trial is the equivalent of a victory for J&J.
Most of the trials to date have taken place in Los Angeles with one trial (which ended in a mistrial) also taking place in South Carolina.
Talc-related lawsuits exploded into the news in 2016 with a series of massive verdicts in Missouri involving women who claimed that use of talc powder on their genitals caused ovarian cancer, although some have since been thrown out on appeal. The latest ovarian cancer talc trial ended this summer in St. Louis, after jurors saddled J&J with a $4 billion+ verdict.
Mesothelioma-related claims are distinct, alleging that asbestos fibers inhaled in talc powder cause cancer, potentially exposing J&J to thousands of other lawsuits from both men and women.
Other companies have also faced talc-related claims, including Colgate-Palmolive and J&J's talc supplier, Imerys. Both Colgate and Imerys were defendants in the Henry case, but they settled out prior to the start of opening statements.
Had Colgate remained, the case would have been the first in NJ involving the company's talc products, and the first in the country involving both J&J and Colgate as defendants.
J&J has rotated through a number of law firms in the previous talc trials. The Henry case featured attorneys from Weil Gotshal & Manges heading up the defense team for the first time.
Henry is represented by the South Carolina-based firm Motley Rice, which is scheduled to take J&J to trial in another talc case scheduled for November in South Carolina.
CVN has recorded the bulk of J&J talc trials to date involving both ovarian cancer and mesothelioma-related claims. They are all available to subscribers as part of CVN's trial archive, which also includes hundreds of products liability and personal injury trials from throughout the United States.
The case is captioned Henry v. Brenntag North America, et al., case number L-1748-18 in Middlesex County Superior Court before Judge Ana Viscomi.
Email David Siegel at dsiegel@cvn.com